Nico Hulkenberg hasn't set a Lotus deadline but wants future sorted by end of October
6ft German driver says he is unconcerned by weight concerns for 2014
By Pete Gill
Last Updated: 10/10/13 1:04pm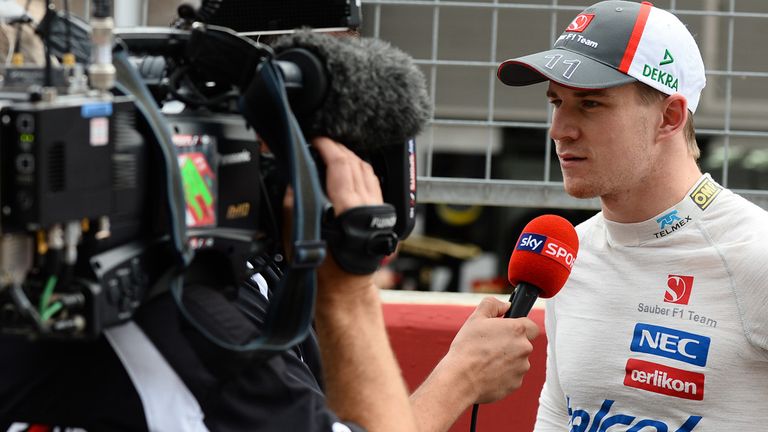 The German driver, who starred in last week's Korean GP as he rebuffed Lewis Hamilton to claim a career-best fourth place, is the current favourite to replace the Ferrari-bound Kimi Raikkonen alongside Romain Grosjean next season.
Having narrowly missed out on a seat at Ferrari, Hulkenberg has been linked with a return to former team Force India as well as Lotus, and is now keen to finalise his future in the coming weeks.
"I've not set a deadline, that was a misunderstanding and someone didn't lay it out correctly," the 26-year-old stated during Thursday's press conference at Suzuka. "But what I have said is that I would like clarification or certainty by the end of October."
Were Hulkenberg to depart Sauber for Lotus then the Enstone outfit would be his fourth team in as many seasons of driving in F1, and his hopes of landing the seat were given a boost during the week when Lotus boss Eric Boullier insisted that the German wouldn't be overlooked because of his height. Tall, and thus heavier, drivers are expected to be disadvantaged next season when weightier power units are introduced, and it's believed that McLaren have opted against signing the 74kg Hulkenberg as a replacement for the struggling Sergio Perez because of weight concerns.
For his part, Hulkenberg has shrugged off those worries.
"Nobody from any team has told me that weight or height is an issue," he said. "For me, this whole discussion is not worth having because I am what I am and I can't change it."
However, Hulkenberg has altered plenty of perceptions in the paddock since the summer break with a strong run of form that has seemingly propelled him ahead of Felipe Massa in the battle to claim's Raikkonen seat.
"Now is the time of year when contracts are being made and if you are strong now then it's not the worst," he acknowledged to Sky Sports News.
"Everything is open. It's the time of year when you speak to everyone, including my own current team, but it [his future] is still undecided."