Hamilton aims to sustain consistency
Lewis Hamilton is confident McLaren's race-winning car means he will take his first 2012 victory soon, but insists it's just as important he stays consistent.
Last Updated: 06/04/12 9:48am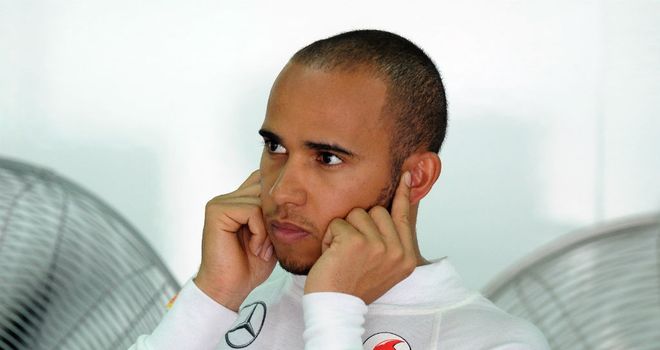 Lewis Hamilton remains confident he will achieve his first victory of 2012 sooner rather than later, but says he will be happy to maintain a consistent level of performance in order to keep right in the title hunt.
The McLaren driver won as many races as any driver but the dominant Sebastian Vettel last year yet finished a disappointing fifth in the championship largely owing to the fact he failed to achieve back-to-back podium finishes during any point of the campaign.
He has already achieved that feat in the first two races of this season, even if he admits he was disappointed to win neither considering he claimed pole position for both.
He says he would love to win for a third time in his career in China next weekend, but is also prepared to play a longer game if needed if that means he maintains consistency.
"I'm looking at the championship as a whole - although, of course, I'd love to win every race, it's more important to be in a good points-scoring position at every race," Hamilton said.
"I think the first two races have shown that, as a team, we're definitely in positions to win."
Drawing parallels with the start to his first season in Formula 1 five years ago, he is aware of the merits of consistency to a season-long championship challenge rather than intermittent flashes of brilliance.
"I won't deny that I'm disappointed to have had two pole positions and not to have been able to convert either of them into victories, but I prefer to think of it that luck just hasn't been on my side, and that it will swing my way sooner or later," he said.
"I also think last year taught me the value of consistency: it's no use chasing a great result if you can't back it up with another strong finish the following week. So maybe I'm just playing myself in gently: after all, in 2007, I didn't win a race until the sixth round, and I was in the hunt for the title all through the year."
McLaren generally set the pace in dry conditions - notably over a single lap - at the first two events of 2012 but with teams having had two complete free weeks to purely focus on development back at their respective factories prior to Shanghai, Hamilton is keen to see how things stack up next weekend.
"I still don't think the pecking order has settled down yet, so it's important to get some good results in the bag while we can," added the two-time Chinese GP winner.
"It will be very interesting to see how the order has shaken itself out over the last three weeks - it's going to be an interesting weekend."
Team-mate Jenson Button had been the model of consistency since last summer prior to his arrival in Malaysia, claiming nine podium finishes in his previous 10 starts, but failed to score points at Sepang after a tangle with Narain Karthikeyan and a subsequent struggle for grip in the rain-hit race.
But having spent time 'relaxing' with a triathlon in Hawaii last week, Button says he is refreshed for the next phase of the season.
Asked if his self-confessed "bad day at the office" had changed his preparations for China, he replied: "Not really, it makes you a little keener to get back in the cockpit as you're always a bit more determined to be looking ahead rather than looking back.
"But, like I say, it doesn't really make any difference. In fact, the three-week break has been extremely relaxing - I was able to get away, relax and keep training. It's still the start of a very long season, so it's good to keep fit and refreshed. I've usually gone well in Shanghai, it's a circuit I really enjoy and I'm looking forward to the race weekend."
With the Shanghai International Circuit consisting of several infield twisty sections and one very long straight, Button is interested to see how the grid tackles car set-up.
"We saw different teams address that balance in different ways over the first two races, so it will be interesting to see if things start to converge this weekend after a few weeks back in Europe," he added.
"Tyre wear will also be very important - last year we saw a real disparity between the compounds - so getting the preparation right will be crucial."