McLaren try out higher nose
Pictures have emerged suggesting that McLaren ran a higher nose design during last week's three-day Mugello test.
Last Updated: 08/05/12 12:45pm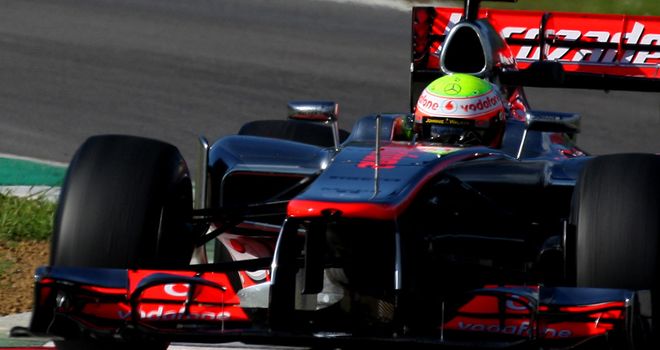 Pictures have emerged suggesting that McLaren ran a higher nose design during the Mugello test.
Although the team maintained a quiet profile throughout the three-day event, not least because Jenson Button justified his absence, along with that of Lewis Hamilton, on the basis that the team didn't have any major new upgrades to try out, it now appears - literally - that the team tested out a radically-different front nose.
Judge for yourself. The picture above is of Oliver Turvey in action at the wheel of the MP4-27 on Day Three with what certainly looks to be a higher nose.
And here, for comparison's sake, is Lewis Hamilton driving the MP4-27 at the start of the season:

Still not convinced? Well, here's another shot of the McLaren, shot late on Thursday night. With a little squinting, the picture also seemingly indicates that the MP4-27 has been remodelled in preparation for this week's Spanish GP.
Although not quite a version of the 'boxer's nose' that every team other than McLaren and Marussia have used this season, at first sight it certainly looks as if the new design provides the MP4-27 with a higher front profile.
Logic would suggest that the change is unlikely to be permanent. After all, if the team were entertaining thoughts about making a dramatic change to an integral part of the MP4-27's design then surely either Button or Hamilton, rather than Turvey, would have been called into action at Mugello. Alternatively, it may simply be the prosaic case of the team only completing the production of the new part just in time for a brief shakedown on Thursday night.
Either way, with speculation already rife about just why the team have begun experimenting with the height of their nose, the McLaren garage will undoubtedly be the focus of a large share of attention when practice begins in Spain on Friday.