Brundle: Lewis 'crazy' to leave
Martin Brundle believes Lewis Hamilton would be 'crazy' to leave McLaren for Mercedes at the end of the season and has predicted he will sign a contract extension.
By William Esler
Last Updated: 23/09/12 2:01pm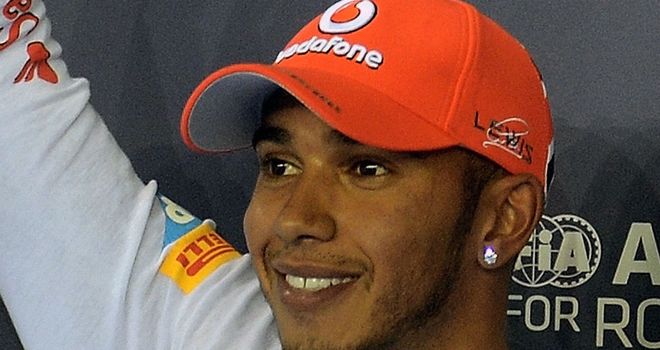 Sky Sports F1 HD pundit Martin Brundle believes Lewis Hamilton would be 'crazy' to leave McLaren for Mercedes at the end of the season and has predicted he will sign a contract extension with the Woking outfit.
The 2008 World Champion, whose current deal with McLaren expires at the end of this season, has been repeatedly linked with a move to Mercedes in what has proved to be the saga of the summer.
With radical new engine regulations being introduced in 2014, a move to a works-supported team could prove beneficial, particularly after McLaren became a customer team for the first time in over two decades in 2010. However, Brundle believes that no matter how attractive the offer might appear to be, the grass wouldn't necessarily be greener at Mercedes.
"I'll jump off the fence and say he will stay at McLaren," Martin boldly declared during Sky F1's build-up to the Singapore Grand Prix.
"You can imagine that Ross Brawn, who has won a lot of World Championships and now has the might of Mercedes-Benz around him, would have made a very compelling case for Lewis to go there and what they could achieve in the future. I'm not surprised at all that Lewis would consider that very strongly indeed.
"Often you sign up for three years, so you have to look into the crystal ball and try to work out the best place to be is and it is very difficult as everyone is trying to sell it to you. But I think if you step back and look at it rationally he would be crazy to leave McLaren and they would be even more crazy to lose him. I'm pretty sure a deal will be done.
"They might be arguing over how long. Maybe Lewis doesn't want to settle down for three years, maybe he wants just one or two years and that might be a sticking point. They will give him a bit more commercial freedom and McLaren will up the ante. They cannot afford to lose the man who I believe the fastest man in Formula 1."
McLaren reportedly want to offer Hamilton a reduced wage compared to his current deal, which could explain the delay in agreeing a new deal. But according to Martin, who is no stranger to McLaren's working practices after being involved in contract negotiations with the team on behalf of David Coulthard and Gary Paffett, such brinkmanship is standard practice.
"There is no price list for a Formula 1 driver," he added.
"It is an open negotiation. It is supply and demand and that is why McLaren would have put out a few rumours, we are looking at Perez, we could have Raikkonen back and they played the game, they have been forced to play it out in public because of certain things that have happened, something they don't like to do. This has been a soap opera for Formula 1 - and a lot of fun really."
For his part, Hamilton has hinted that he is edging closer towards staying at McLaren, admitting in a pre-race interview with Sky Sports F1 that commercial rights were a key part of his prospective new deal.
"I'm constantly asked the question but there is just no more news that I can give at the moment. My guys are working very closely with Martin [Whitmarsh] and the marketing guys and all those kind of things. Working quite heavily. Everyone's working flat-out back with the management and the team."