McLaren Team Principal questions Bernie Ecclestone's suggestion that F1 should introduce a global cap
Regulation should concentrate on development rather than driver salaries
By Mike Wise in New Delhi
Last Updated: 28/10/12 6:34am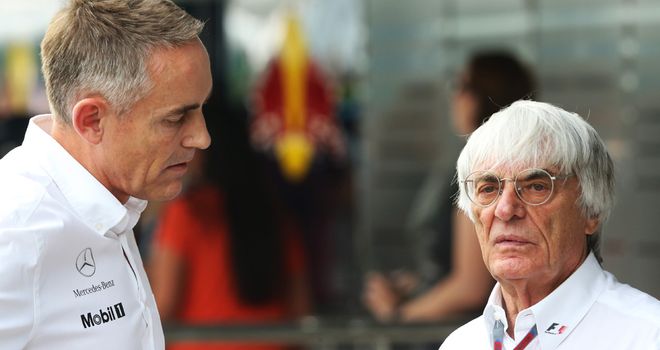 Ecclestone is currently pushing the idea, which limits spending at $250 million - a figure that would include elements such as driver salaries.
Whitmarsh, however, thinks the mooted figure is too large. Speaking at the Indian Grand Prix on Saturday, he also reckoned that broadening the remit of cost control would make any cap even more difficult to police than the current Resource Restriction Agreement.
"I think it sounds like quite a lot of money, so I don't know how it's going to help too many teams," Whitmarsh said. "The philosophy of controlling costs in Formula 1 is important. It's important to our sport, I think we all agree on that.
"I think there's different opinion about how you best achieve that. Bernie wants one that controls driver salaries and does all those things.
"I think what we should be trying to do is ensure that we are spending money in the appropriate places. I think we should be controlling excessive spend in development.
"I think, personally, it would be unrealistic to have a global budget cap. I think it becomes even more difficult to pin down and know everyone is comfortably operating within it."
Whitmarsh added: "The budget cap by Bernie is everything: drivers, everything you spent money on. Which has got the elegance, in that you can describe it very quickly; but it's very difficult then to find out where that money is and to control it.
"Effectively, the RRA is saying, 'We should be free to pay drivers whatever we want to pay them. But what we should be doing is finding the easy, clear, measurable, definable elements of spend and control those'."
Teams have been working towards a new RRA, one that will be regulated by the FIA rather than by the teams themselves.
The hope is that it will be adopted on a voluntary basis next season before coming into full effect in 2014.
Disagreements persist, however. World Champions Red Bull - whose ability to stay within cost boundaries has long been questioned by rivals - think, for example, that driver salaries should be included.
Speaking on Friday, Team Principal Christian Horner said that spending on engines should also be limited given the new rules coming into effect in 2014.
"There's freedom to spend, at the moment, on the engine, particularly the new power train in 2014," he said.
"Currently, as proposed, the RRA doesn't deal with so many aspects, whether it be KERS, for example, whether it be exhausts, whether it be drivers, whether it be other aspects of spend and cost drivers in Formula 1."