Jenson Button says period prior to Sergio Perez's McLaren arrival 'important' for him
Button admits Lewis's departure gives him chance to direct 2013 car
By James Galloway
Last Updated: 28/11/12 12:06pm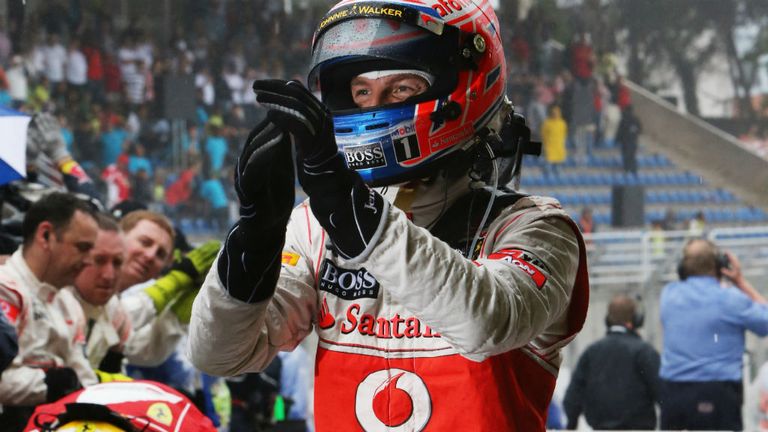 The 32-year-old will effectively assume the role of McLaren's clear experienced team leader for the first time in 2013 as Hamilton begins his new career at Mercedes.
Although the Woking team have made clear both of their drivers will continue to have equal opportunities to beat each other, boss Martin Whitmarsh has nonetheless acknowledged that Perez will take time to settle in at a top team for the first time and at 22 years of age is "a diamond that needs to be honed".
Speaking in an interview with Sky Sports News, Button, while stating that Perez, like Hamilton, will want to challenge for the title as well, acknowledged there would be a critical difference for him with the 2008 World Champion no longer at the team.
"I still think we're going to have two drivers that want to win the World Championship, I don't think that changes. We're all here to do a job and we all think we can win the World Championship," Button told Rachel Brookes.
"It is different though. Lewis is going to be leaving this team, he's won 25 grands prix I think [sic. 21], he's won a World Championship with this team.
"When you're team-mates with Lewis you share the direction of the car, if you like. Whereas now, with Lewis leaving, I have a couple of months to really direct the team into what I would like with the car before Checo [Perez] arrives.
"That's an important couple of months for me to really feel that I've got a good direction with the car because Sergio is going to be quick and that's good, you need a team-mate that's quick, and also I think he's going to learn very quickly which is very good for him."
Although Button ultimately won as many races in any of his two previous campaigns at McLaren in 2012 - three - the 2009 champion conceded he hadn't been completely happy with his or the team's seasons. However, he feels that they have learnt lessons which will transfer to 2013.
"In terms of the end result and the points, I'm not very happy," Button admitted.
"But in terms of what we've learnt this year it's been really useful. In a way it's been like a great 'testing' season because we've had great results, we've had bad results in terms of the whole team and also I've had some bad results.
"We've learnt a lot and in that period around Monaco and Canada when I had some really bad races we got a lot of information with the direction we took with the car, which was wrong, and it's been really useful for us for the rest of the year.
"In a way it's been a good year of how much we've learnt with these tyres as well and the car and I think we can take that forward to 2013."
Button, who experienced an alarming slump in form at the start of the European season when he scored only seven points in six races, explained that struggles to heat up the Pirelli tyres had been his undoing for much of 2012.
"The tyres changing in terms of degradation is a good thing. I like it when there's reasonably high degradation and I like setting the car up around that tyre," he explained.
"Whereas with the tyres this year it's been a lot more tricky because it's been temperature - the temperature has been the issue - and for me, I don't know why, but the way I drive I really struggle to get the tyres up to temperature and that's been a big issue for me. Then they just don't work, you can't turn them on, and then you damage the tyre quicker so there's no consistency with it. So I really found it difficult in a lot of races this year.
"But next year with the new regs with the tyres it's going to work and I hope we're going to have more days like that one [pointing to a picture of his 2011 Brazilian GP podium finish]."