Martin Whitmarsh confident McLaren can overcome their errors of the 2012 season
Team boss says they need to "maximise the points out of the product"
By Mike Wise
Last Updated: 31/01/13 3:49pm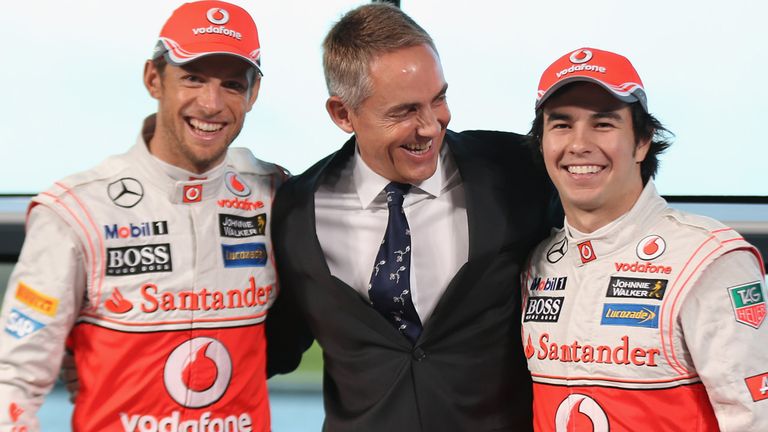 Although bookended by wins and despite frequently having the fastest car, McLaren conspired to finish third in last year's Constructors' Championship. The MP4-28's predecessor suffered poor reliability towards the end of the season whilst the hopes of Jenson Button and particularly Lewis Hamilton were further thwarted by operational errors.
Speaking at the launch of their latest challenger at their Woking base on Thursday, Whitmarsh owned up to McLaren's mistakes but stressed that steps were being taken to prevent a repeat in the upcoming 2013 season.
"We haven't won nearly enough and you think of last year, when we started with the fastest car and ended with the fastest car...it was always competitive. Clearly we can't be satisfied with an outcome where you win quite a few races and are fast most of the time but you aren't securing the Championship," he said.
"There's been a tremendous effort on design processes, making sure that we've got reliability, looking at the processes of how we run ourselves as a race team.
"Fernando (Alonso) and Ferrari last year probably never had the quickest car but were very strongly in contention for the whole year; they maximised the points out of the product that they had and we didn't.
"I think we've worked very hard on that this winter and we're seriously intent on putting that right."
Although outwardly similar to last year's car, the MP4-28 in fact represents an ambitious shift in emphasis for the team in the context of rules that have changed little in the intervening period.
Both the front and rear ends of the car are markedly different, with Whitmarsh of the belief that McLaren's rivals will be hard pushed to come up with anything quite as radical.
"This car is already quicker than the car that finished the end of the last year and at the moment it's got a very encouraging development slope - be it downforce or other parameters - this car's responding very well," he said.
"It's always possible that there's been a eureka moment somewhere else, but I think that's less likely: these current regulations, and the cars that are placed under them, are pretty well developed.
"Undoubtedly, this car will look different by the time we get to Barcelona and again by the time we get to Australia."
Hamilton has since headed off to pastures new, of course, but with Sergio Perez joining Button, their boss stressed that McLaren were looking firmly in a forwards direction.
"Jenson has a lot of experience and I can sense, having known him for a few years, that he's got a lot of confidence in the car, the team and in himself and he believes that he can win this year's World Championship - and he'll be given every opportunity to do so," Whitmarsh said.
"Checo is here because he's shown great capability. He's got a hunger to win, he's not intimidated by being here. I think it's going to be really exciting for him."
Of Hamilton, who has joined Mercedes after 14 years at McLaren, Whitmarsh added: "We've had some great, great times together and there are some very happy memories there. Although I don't think anyone else in the team has spent too much time mulling over memories; I think we're looking forward now.
"I think that's the nature, sadly, of motor racing. But, in a positive way, you look forward; you get excited."