Jonathan Neale says McLaren are 'cautious' in assessing the impact of car upgrades
MD plays down effect "significant volume of parts" might have
By Mike Wise
Last Updated: 09/05/13 8:27am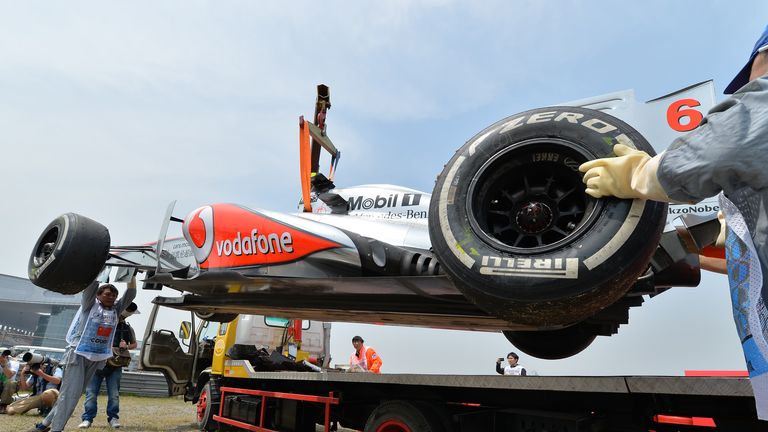 Sunday's race, the first of the European schedule this season, is when the teams tend to reveal their first major upgrade packages of the season. McLaren's will be of particular interest, given the pronounced difficulties they have so far experienced with the MP4-28.
According to Neale, it was "fair to say" that McLaren's efforts for Barcelona - which have included a straight line aero test - are greater than was the case at the opening four races.
He refused, however, to specify what the package might actually contain or speculate as to what advantage it might give.
"We've been working very hard on the car and I think our rate of understanding and effort has been very high. But the first European race will be when everyone else is bringing upgrades as well - our progress will be measured against our competitors," Neale said during a Vodafone McLaren Mercedes phone-in.
"I think we'll be cautious at this stage and say that a measure of our progress will be revealed on Saturday afternoon and Sunday.
"Some things will work, some things won't. We've got a lot more work to do on Fridays as well, so I don't see us being able to just run the car without a huge degree of upgrades.
"It's a significant volume of parts that go into this. But bear in mind that we are essentially trying to sort out a correlation issue. I'd rather not give away exactly which bits are going to be changing until we've decided on Friday night which parts are staying on the car for Saturday."
McLaren currently lie sixth in the Constructors' Championship having started the season with a car that has not produced the level of downforce they had hoped for.
Jenson Button and Sergio Perez, meanwhile, stand tenth and 11th in the drivers' standings - a state of affairs that has already led to suggestions that their title hopes might already be over.
For now, though, Neale says McLaren are simply concentrating on the job in hand.
"I think for good reason Jenson and I would want to be low key: none of us want to be a hostage to fortune, setting ourselves up for a blow on the chin for (the press) isn't very funny," he said.
"The other aspect is that we're not working in isolation here and whilst it's natural that you will want us predict that we're going to be on pole position - and we'd very much like that to be the case - it's a tough sport and the competitors don't stand still.
"Quite what will be delivered depends on what everybody else is doing. So it's just impossible to predict.
"So I'd rather talk with some effort about what we're doing and what we have achieved than what we will achieve, that's just common sense.
"In terms of looking forward, I believe that it's really important that we sort out the issues with the car and the correlation. Because all of the time you've got that lingering doubt about what went wrong and how do we fix this, there's opportunity for it to arise again.
"I'm confident that we can get back to winning ways. As for the Championship, that's a long way out at the moment and I think we'll be better placed to comment on that as we head towards the summer and the shutdown period."