Sergio Perez rules out title challenge as Jenson Button fears for McLaren's prospects in Spain
No signs of a breakthrough in Friday's running despite new parts
By Pete Gill
Last Updated: 11/05/13 8:41am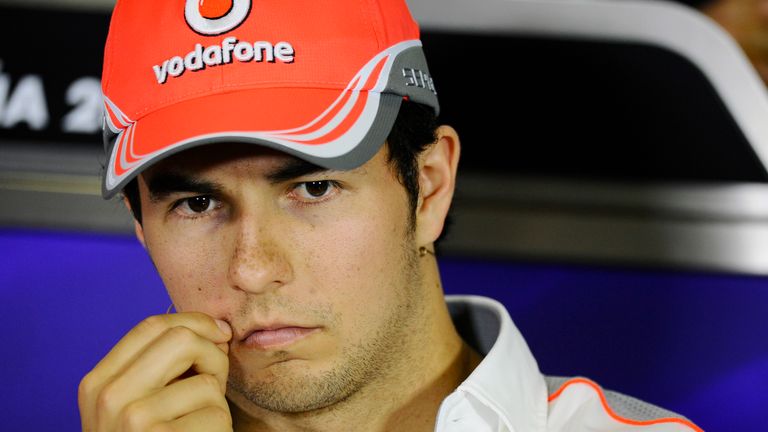 With the much-hyped MP4-28 proving to be a dud on track and the team bereft of a quick fix for their problem child, McLaren, who last won the coveted Constructors' Championship as long ago as 1998, currently sit just sixth in the standings, almost one hundred points behind leaders Red Bull.
Lacking pace and consistency, such has been the scale of the MP4-28's performance deficit that neither Perez, who had scored more points this time last year with Sauber than he has with his new team in the current campaign, nor team-mate Jenson Button have yet to challenge for a podium, let alone a win.
There might still be a long way to travel in the 2013 season but, as the forlorn Mexican admitted in a press briefing on Friday at Barcelona, there is even further to go for McLaren to catch the frontrunners.
"It's not realistic to think that we are going to be fighting for the title," the 23-year-old conceded. "It's the fifth race and we're still two seconds a lap slower."
The numbers don't lie and hopes of a breakthrough were dashed during Friday's practice sessions at the Circuit de Catalunya when Perez and Button once again languished amid the midfield runners and the long-awaited new front-wing was only trialled for the final ten minutes of the afternoon session. New parts were being flown out overnight, but Button, normally the embodiment of optimism, has already written off any prospect of fighting with the frontrunners this weekend.
"We're still a hell of a long way off the pace - I think you will see four teams who are very competitive at the front, and I don't feel we'll be one of them," Button told The Daily Telegraph. "We won't be fighting towards the front, and it's going to be quite a big gap."