Best yet for Schuey
Michael Schumacher gave himself a much-needed boost in the Spanish Grand Prix after finishing in sixth ahead of Nico Rosberg.
Last Updated: 22/05/11 5:28pm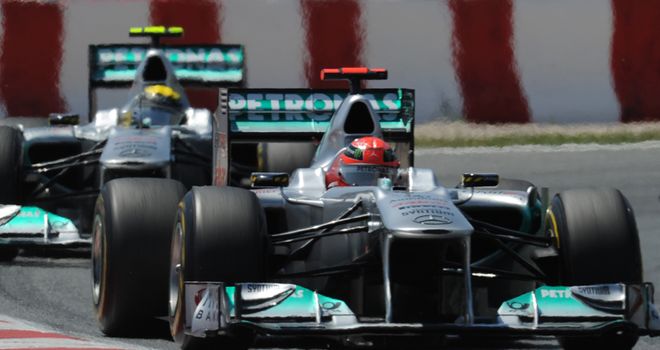 Michael Schumacher gave himself a much-needed boost in Sunday's Spanish Grand Prix after finishing in sixth place ahead of Mercedes GP team-mate Nico Rosberg.
The seven-time world champion could only finish 12th in Turkey a fortnight ago and subsequently had to fend of questions about his Formula One future after saying that the "big joy" was gone from racing.
However, Schumacher responded with his best finish to date this season - the 42-year-old's placing in the classification owed mainly to a start which saw him climb from 10th on the grid to sixth on the opening lap in Barcelona.
"I had a good start; going right through the middle was tight but fortunately it worked out," he said.
"Then the race was about holding position from there. We can be happy with the result but other than that, it was just tricky with oversteer, tyre degradation and poor balance to deal with.
"Still we achieved what we could have, and I look forward to going to Monaco."
Starting seventh, meanwhile, Rosberg fell behind Schumacher on lap one and spent the rest of the race in his wheeltracks.
Difficult
The younger German said his attempts to pass were hampered by the Drag Reduction System on his car's rear wing, which was malfunctioning.
"It was a difficult race for me after I lost radio communication with the team early on which was tough, and my DRS was not working properly which made any overtaking almost impossible," Rosberg said.
"I had fun in the battle with Michael for P6, although I wasn't able to attack him fully and was therefore stuck behind him for most of the race."
Even so, a measure of the gap that exists between Mercedes and pacesetters Red Bull and McLaren comes from the fact that both of their drivers were lapped by race winner Sebastian Vettel and second-placed Lewis Hamilton.
Team principal Ross Brawn added: "Both drivers had good starts, particularly Michael, and credit to the team for that. Then we had a pretty controlled race with good work on the strategy and in the pits.
"Obviously we have ground to make up on the cars in front and we will keep working hard."