Laying foundations
Ferrari team principal Stefano Domenicali says they can recreate the Michael Schumacher era with Fernando Alonso.
Last Updated: 08/09/11 11:14am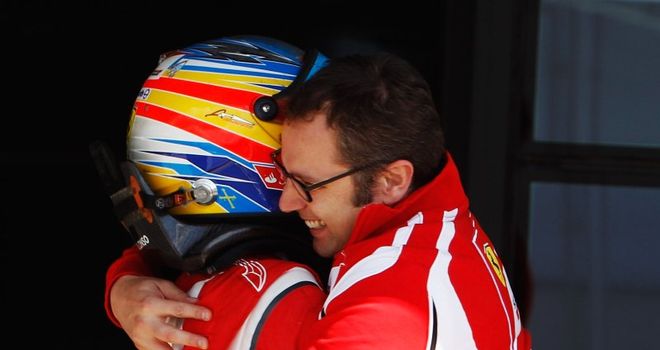 Ferrari team principal Stefano Domenicali says they hope to be winning regularly again within a year, with Fernando Alonso leading the team in much the same style as Michael Schumacher did a decade ago.
Domenicali was speaking ahead of this weekend's Italian Grand Prix, which Alonso won for the Scuderia from pole position 12 months ago as he built title momentum before Red Bull's Sebastian Vettel pipped him to the crown.
Ferrari enjoyed unparallelled success with Schumacher in the early years of the century, with the seven-time champion winning five titles in a row for the Maranello team, and Domenicali believes Alonso can bring back the glory days.
It took Schumacher five seasons to become world champion with Ferrari having joined them after taking his second title at Benetton in 1995.
With the right ingredients in place, the partnership went on to dominate F1 and Domenicali sees parallels with Alonso, who won two titles for Renault in 2005 and 2006 after they bought the Benetton team. The Spaniard, 30, is signed up until the end of 2016 at least.
"I was part of the group since 1991 so I know very well the story," Domenicali said of Ferrari's travails as they sought to turn the team around in the 1990s.
"Before doing a fantastic season, we took six or seven years before being competitive, to win in a continuous way.
"So we are putting down once again the basis to be strong for a long time."
Domenicali said current limits in place meant that if Ferrari were to achieve such dominance again, they would be unable to spend a fortune on relentless testing - a fundamental of their success in the Schumacher era.
Besides the German, Ferrari also cherry-picked some of the sport's biggest names as the nucleus of their outfit: technical director Ross Brawn and designer Rory Byrne followed him from Benetton while then team principal Jean Todt was already in place.
Big egos
In a nod to the Red Bull designer who has designed title-winning cars for three teams, Domenicali said that "apart from one single specific situation with Adrian (Newey), there are no more big egos that make the difference".
He added: "Now it's a matter of team work that has to be really working close together in the best way.
"So I think that now we are in this process to build up the team and I think that in one year we will be hopefully ready to start again another long series of victories."
Ferrari are still building, bringing in Pat Fry from McLaren last year with former technical director Aldo Costa leaving the company. Australian Chris Dyer was also replaced as head of race track engineering. Domenicali stressed, however, that Alonso is the key.
"Fernando is a big asset for us and he is another responsibility that we have because if he trusts the team in such a way to be part of us for such a long time, it means he really believes we can do a good job together," he said.
"We want to give back to him this trust and we want to win together."
The Italian was quoted recently in the German media as saying that there were only two team leaders among the current crop of F1 drivers: Alonso and Schumacher, despite the latter now finding the going much tougher two seasons into a comeback with Mercedes GP.
Domenicali made it clear that he had not meant to snub 24-year-old Vettel, who is currently cruising to his second successive title, and was referring to specific qualities.
"What for me is a leader is someone that really has achieved something very important and is showing something unique," he said.
"Sebastian for example is a fantastic driver. He has won a world title and I would say that he is going to win the second one and is becoming a leader. He's younger.
"When you don't say that he is a leader it doesn't mean that he is not good. The way that he is driving and the way that he is behaving is really very close to be there.
"Numbers, age and experience make the difference in that respect. Sebastian will be the next one."
Vettel might be seen as Schumacher's heir in their homeland but at Ferrari it is Alonso who is seen as the 42-year-old's natural successor.
Family
The Spaniard, like his predecessor, has spoken of Ferrari being his 'second family' and both know how to make the team work around them.
"Fernando is very similar (to Schumacher) in the way that he is fitting in the team," said Domenicali.
"I think that his period of getting into the team was much shorter than the one that it took Michael to get in, maybe because of the characteristics of the personality, the language and so on, but I see them very similar on a lot of things.
"The more that I know Fernando, the more I can compare them," he added.
"Of course to win seven titles is something almost impossible in the future, in my view.
"But if we at least start again to win for Fernando the first title with us, then we will see. The downhill will be easier. That is of course our aim."