Di Resta: I don't hold the key
Paul di Resta has admitted he "doesn't hold the key" to his chances of moving to a front-runner like McLaren and is therefore continuing to focus on racing.
Last Updated: 06/09/12 4:23pm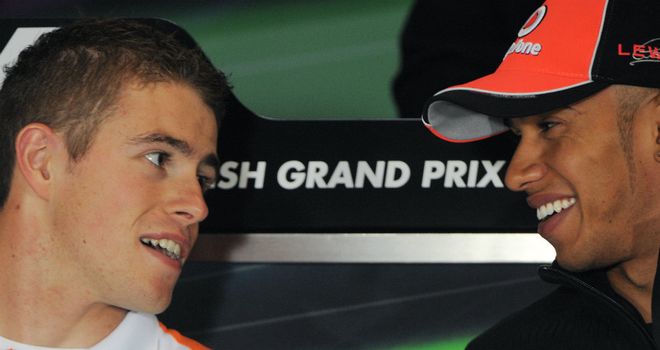 Paul di Resta has admitted he "doesn't hold the key" to his chances of moving to a front-running team like McLaren next season in wake of renewed speculation that he would be the Woking team's first choice to replace Lewis Hamilton should the Briton defect to Mercedes.
Force India driver Di Resta's name has been linked to all three of the top teams who could have driver vacancies to fill for 2013 - McLaren, Ferrari and Mercedes - with reports that he is on the former's radar having ratcheted up a level over the past 24 hours after reports that Hamilton is considering leaving at the end of the current campaign.
The Scot has long-standing ties to McLaren, having won their prestigious young driver award in 2004 and made his F1 test debut with the Woking team, and his consistent form over his first 18 months in F1 has put him in line for one of the top drives in the sport should they become available.
However, speaking to Sky Sports News' Rachel Brookes in a Italian GP paddock dominated by talk of Hamilton's future on Thursday, di Resta admitted he had to see what happened elsewhere first before it became clear what his own options might be.
"I don't hold the key to it," the Scot accepted. "It's all talk up and down the paddock. Obviously there's a few key drives likely to change but I'm a Sahara Force India driver and I'll continue to do the work for them."
The former DTM Champion acknowledged it was nice to be linked to some of the grid's biggest drives but said his main focus remained on securing strong results for Force India.
"The focus is there," di Resta said about the driver market.
"It's media speculation as it normally is at Monza. It's nice to be in that framework but the important thing is keeping the focus on the race weekend.
"We're in the car tomorrow and we need to deliver 100% and that's what we'll try and do."