Testing... testing...
Testing returns to Barcelona this week - and the Sky Sports F1 team will be there to bring you all the action. Here's what we have in store...
Last Updated: 28/02/12 11:55am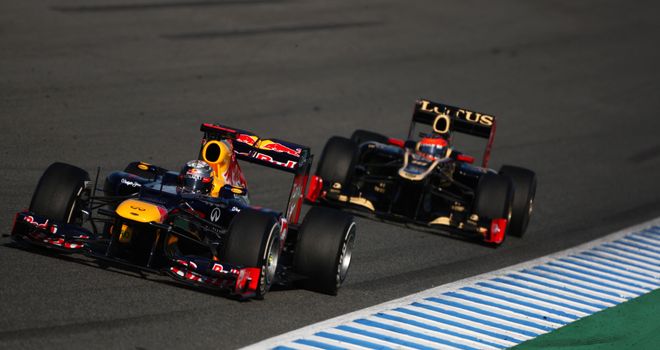 Formula 1 testing returns to Barcelona on Tuesday - and the Sky Sports F1 team will be there to bring you all the action.
Eleven of the 12 teams will be on display at Circuit de Catalunya with HRT the only outfit that won't be in action as they want to spend the time in the factory with their new car.
It's all set up to be another intriguing week of action and you will be able to follow all the latest news and developments from the track on skysports.com/formula1 via our interactive live commentary service.
Our team of roving reporters will post text and picture updates from across all four days. And if that's not sufficient, Sky Sports News will also be in attendance, with reporter Craig Slater at the circuit throughout the test to provide on-the-spot reports, interviews and analysis.
First up will be the launch of the W03 as Mercedes launch their 2012 challenger shortly before proceedings get underway on Tuesday morning. We'll have first pictures of the new Merc as well as reaction to its launch.
Marussia, meanwhile, will make their 2012 testing debut after they opted to sit out the Jerez session. The Oxfordshire-based squad, though, will use their 2011 car over the four days.
World Champion Sebastian Vettel will kick off Red Bull's testing programme. The German will be in action in the new RB8 on the opening two days of the test before team-mate Mark Webber takes over the car for the final two days.
The Barcelona test - the first of two to be held at the Spanish Grand Prix venue before the teams fly out to Australia for the March 18 first race - will see teams begin to focus on the performance and set-up of their new machines after predominantly using the four days at Jerez for reliability and data-gathering work.
RUNNING ORDER
Red Bull
Tuesday: Sebastian Vettel
Wednesday: Sebastian Vettel
Thursday: Mark Webber
Friday: Mark Webber
McLaren
Tuesday: Lewis Hamilton
Wednesday: Lewis Hamilton
Thursday: Jenson Button
Friday: Jenson Button
Ferrari
Tuesday: Fernando Alonso
Wednesday: Fernando Alonso
Thursday: Felipe Massa
Friday: Felipe Massa
Mercedes
Tuesday: Michael Schumacher
Wednesday: Nico Rosberg
Thursday: Michael Schumacher
Friday: Nico Rosberg
Lotus
Tuesday: Romain Grosjean
Wednesday: Romain Grosjean
Thursday: Kimi Raikkonen
Friday: Kimi Raikkonen
Sauber
Tuesday: Sergio Perez
Wednesday: Sergio Perez
Thursday: Kamui Kobayashi
Friday: Kamui Kobayashi
Force India
Tuesday: Nico Hulkenberg
Wednesday: Nico Hulkenberg
Thursday: Paul di Resta
Friday: Paul di Resta
Toro Rosso
Tuesday: Jean-Eric Vergne
Wednesday: Jean-Eric Vergne
Thursday: Daniel Ricciardo
Friday: Daniel Ricciardo
Williams
Tuesday: Bruno Senna
Wednesday: Valtteri Bottas
Thursday: Pastor Maldonado
Friday: Pastor Maldonado
Caterham F1
To be confirmed
HRT
Not running
Marussia
Tuesday: Charles Pic
Wednesday: Charles Pic
Thursday: Charles Pic
Friday: Timo Glock