HRT put up for sale and in talks with potential new owners
Spanish team's owners say time is right for new investors
Last Updated: 13/11/12 8:37am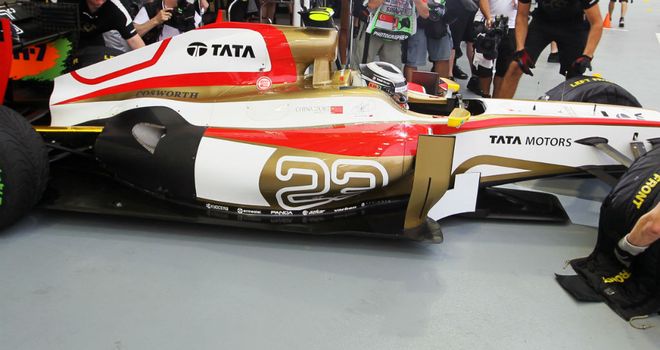 The backmarkers have struggled for funding since being annouced as one of three new teams to enter the sport in 2010 - changing hands and name three times in that period.
Since Thesan Captial took over last year HRT have moved to new headquarters in Madrid as they looked to establish themselves as a 'Spanish national team.'
However, in a statement the investment company revealed they felt the time had come to sell the outfit - which has failed to score a point since its entry into F1 - to new investors.
'The current owners of HRT Formula 1 Team, TC II S.a.rl., would like to confirm that they are currently in talks with a number of groups interested in buying the team," it read.
'HRT Formula 1 Team's current management hopes to conclude the sale in the upcoming weeks and, with it, enable the team to continue progressing and become a reference in modern-day Formula 1 after the important achievements already accomplished in this 2012 season.
'HRT Formula 1 Team hopes to communicate the name of its new owner in the upcoming weeks.
'According to the HRT Formula 1 Team management, "we believe the moment to let new investors come through for HRT Formula 1 Team has arrived. We're very proud of the work done by the entire team and of the excellent sporting evolution achieved but the time has come for the team to continue growing with new financial backing.
'We're convinced that the sporting potential of the team is huge and that the presence of new investors can give it a big boost".'