Sky Sports F1's Korean GP schedule
Prepare yourselves for some more early mornings - or just be cunning and don't change your sleep patterns after Japan!
Last Updated: 13/10/12 11:12am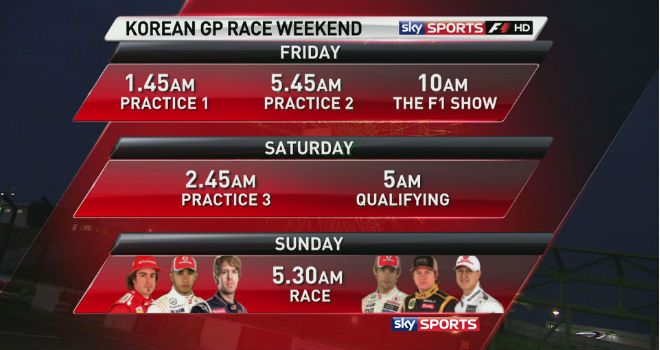 Yup, there's no stopping the F1 juggernaut now with the season flying through the gears as the 2012 finishing line comes into view.
Just five days after Sebastian Vettel crossed the finishing line at Suzuka to close within four points of title leader Fernando Alonso in the Drivers' Championship, F1 - and the Sky Sports F1 team - will be back in action at the Korean International Circuit for Round 16 of the calendar.
There is, though, some good and bad news: the bad being that some more early-morning starts are being called for, the good that, if you don't change your sleep patterns from last week's Japanese GP, you'll cope just fine.
Probably.
Our coverage begins at the earlyish hour of 7am on Thursday morning with the Drivers' Press Conference, while the track action starts at 2am on Friday. Fret not if that is a little hardcore for you as our Practice Two broadcast will be going to air at the rather more friendly time of 5.45am.
And there's definitely no excuses - unless you want to be called a lightweight by Natalie Pinkham - for missing either of our essential weekend broadcasts: our Qualifying Programme, starting at 5am on Saturday, and the main event, the 2012 Korean GP, from 5.30am on Sunday.
As a cherry on the top, we'll also have a special edition of the F1 Show at 10am on Friday morning which will be broadcast simultaneously from Korea and London with Ted Kravitz co-hosting direct from the circuit to analyse Friday's on-track events while Georgie Thompson - and guests - will join join forces with SuperTed and the rest of the team live from the F1 Show studio.
As always, don't miss it!
Thursday October 11:
7am: Drivers' Press Conference - Live!
7:30pm: Britain's Next F1 Star.
Friday October 12:
1:45am: Korean Grand Prix Practice One - Live!
5:45am: Korean Grand Prix Practice Two - Live!
8am: Team Principals' Press Conference - Live!
10am: The F1 Show - Live!
Saturday October 13:
2:45am: Korean Grand Prix Practice Three - Live!
5am: Korean GP Qualifying - Live!
Sunday October 14:
5:30am: The 2012 Korean Grand Prix - Live!
11:30am: The 2012 Korean Grand Prix - Interactive Full Race Replay