How the 2013 F1 grid shapes up
How the twenty-two pieces of the 2013 jigsaw fell into place...
By Pete Gill
Last Updated: 02/03/13 7:25pm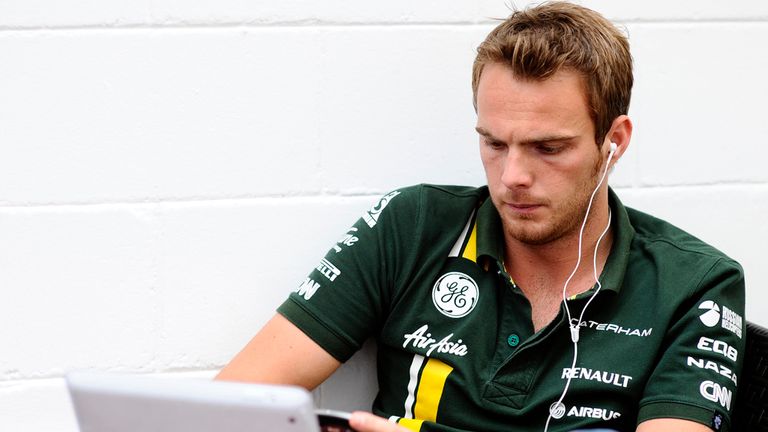 Red Bull
Confirmed: Sebastian Vettel and Mark Webber.
With Ferrari's flirty summer pursuit of Webber decisively rebuffed, World Champions Red Bull will start the 2013 campaign with their line-up unchanged for a fifth consecutive season. If they make it to six, Webber and Vettel will be as synonymous with Red Bull as wings and vodka.
Ferrari
Confirmed: Fernando Alonso and Felipe Massa.
Done and dusted long before the end of 2012. Alonso is under lock and key until 2016, while Massa has signed a one-year contract extension in the wake of a dramatic upsurge in form. His compliance at the Korean GP, when he shadowed his title-aspiring team-mate to the line, probably sealed the deal.
However, the salient detail in the announcement that Felipe will continue alongside Fernando in 2012 is that his extension is for a single season only. The door is thus still open for Sebastian Vettel in 2014. Maybe.
McLaren
Confirmed: Jenson Button and Sergio Perez.
After three years of the all-British line-up of Hamilton and Button, McLaren have opened up doors to new and potentially lucrative overseas markets with the acquisition of Sergio Perez from Sauber.
Whether the young Mexican can adequately compensate for Hamilton's departure on the track remains to be seen, however. Jenson Button, meanwhile, will drive for the team for a fourth successive season. The difference in 2013, however, is that he will do so as the team's undisputed number one.
LotusConfirmed: Kimi Raikkonen and Romain Grosjean
They made us - and Romain - wait, but Lotus have opt for the same line-up in 2013 after deciding Grosjean's pace outweighed his misdemeanours during the 2012 season.
Interestingly, the belated announcement that the Frenchman would stay with the team - made almost two months after the official confirmation that Kimi Raikkonen would continue - came just a couple of days after he triumphed at the Race of Champions event, knocking out Sebastian Vettel and Michael Schumacher along the way.
Mercedes
Confirmed: Lewis Hamilton and Nico Rosberg.
Mercedes might have finished a very distant fifth in the 2012 Constructors' Championship but, following the bombshell signing of Lewis Hamilton, it's certainly arguable that Ross Brawn's team will start 2013 with the strongest driver line-up on the grid. Meanwhile in another significant change for 2013, Norbert Haug has relinquished his role as head of motorsport at Mercedes with rumours rife at the time of writing that he will be succeeded by Toto Wolff.
Sauber
Confirmed: Nico Hulkenberg and Esteban Gutierrez
With Sergio Perez on his way to McLaren, Nico Hulkenberg had already been brought in to lead the team for 2013 prior to the confirmation that Sauber were also parting company with their other driver, Kamui Kobayashi.
The popular Japanese will be replaced by Mexico's next young hope Esteban Gutierrez, whose appearance in the second seat helps appease sponsors, with FR 3.5 Champion Robin Frijns in turn taking his place as third driver.
Williams
Confirmed: Pastor Maldonado and Valtteri Bottas
Bottas' promotion comes after a series of strong showings during his Friday Practice appearances this season. On each occasion he took the place of Bruno Senna and now that move has been made permanent.
Pastor Maldonado's second season was about as inconsistent as they come - the vertiginous high of Barcelona tempered by a string of petty incidents, retirements and visits to the stewards. Williams will continue to polish this rough diamond and doubtless the sponsor's millions will help them.
Toro Rosso
Confirmed: Daniel Ricciardo and Jean-Eric Vergne
After a very average start, Vergne's vulnerability has softened as the season has progressed, thanks in the main to three eighth-place finishes which place the Frenchman three points ahead of his team-mate in the standings.
Ricciardo has been more consistent - not to mention far superior in qualifying - and it's with little surprise that both have been given another year in which to prove themselves as a potential successor to Vettel or (more likely) Webber.
Force India
Confirmed: Paul di Resta and Adrian Sutil
The team had made no secret of their wish to retain their 2012 line-up for 2013, but Nico Hulkenberg's long-predicted move to Sauber was confirmed with a month of the campaign still remaining. The under-contract Paul di Resta was sure to stay on, but who would partner him?
The question remained unanswered until two weeks before the racing season began when, following what was billed as an effective shootout for the drive at the first Barcelona test, the team opted to rehire Adrian Sutil at the expense of 2012 third driver Jules Bianchi. The belated decision means the team therefore revert to the same driver line-up they had in their most successful season of 2011.
Caterham
Confirmed: Charles Pic and Giedo van der Garde
After a solid debut year at the top level with Marussia, Frenchman Pic will jump ship from one still point-less 2010 newcomer to another, ensuring at least one of Caterham's more experienced current line-up will be making way.
The team's line-up will be completed by Dutchman Giedo van der Garde, the 27-year-old appointed the week before the first test of the winter at Jerez after a year spent racing for Caterham in the GP2 Series.
Marussia
Confirmed: Jules Bianchi and Max Chilton
Timo Glock had appeared set for a fourth season with the team until they announced in January that he was departing "by mutual consent". The team, who missed out on a financial boost when Caterham beat them to tenth place in the Constructors' Championship in Brazil, readily admitted that "tough economic conditions" were to blame and soon hired Brazilian GP2 race winner Luiz Razia to partner another F1 rookie in the form of the already confirmed Max Chilton.
However, the failure of Razia's sponsor to come through with the promised funds meant the musical chairs restarted, with the man only passed over further up the paddock by Force India the previous day, the Ferrari-backed Jules Bianchi, eventually named as Chilton's new team-mate after Razia's contract was terminated.
Pete Gill