Robert Visoiu dominates GP3 Race Two in Valencia to take victory for MW Arden
Fourth for Tio Ellinas enough to retake Championship lead
By William Esler
Last Updated: 17/09/13 1:26pm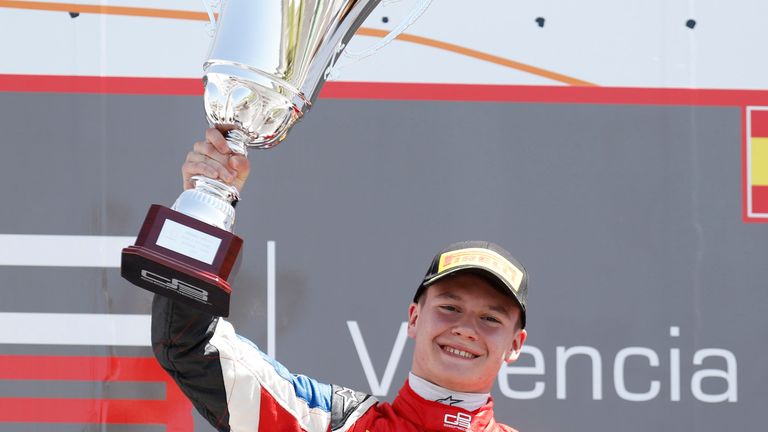 Eighth position in the opening race meant the MW Arden driver started from pole in Race Two and he made full use of his grid position to pull away from the pack and win by nearly eight seconds.
There was drama before the race had even started, with Adderly Fong pushed off the grid as the field set off on their formation lap. He had been sent to the back after contact with David Fumanelli in Race One and whilst the Italian completed the formation lap, he also had to be rescued by the marshals from his grid position.
At the front, Visoiu had a clear run into turn one, whilst behind him Aaro Vainio weaved around as he attempted to keep Tio Ellinas and Carlos Sainz behind him. That in turn allowed Sainz to get past the Ellinas and into the top three at turn two.
The race then settled down as the drivers nursed their tyres in high temperatures at the Spanish venue.
Nick Yelloly started to make his move on lap 12, with a nice move on Fontana through the first couple of turns to take tenth. He followed that up three laps later by driving around the inside of Dino Zamparelli at turns three and four, demonstrating just how much extra grip his Carlin car had.
Another man starting to pick up the pace was Carlos Sainz, proving that MW Arden had got on top of the tyre-wear issues that ruined their previous outing in Barcelona. He was hooked onto the gearbox of Vainio in the closing laps, but could not find a way past with just a tenth of a second separating the pair at the line.
A four way battle for sixth erupted on the final lap when Facu Regalia ran wide at turn one allowing Kevin Korjus through. The delay allowed Race One victor Conor Daly and Yelloly to close on the Argentine as they went three wide through the middle-sector, but everyone held onto their position.
GP3 Valencia - Race Two
1) Robert Visoiu (ROU) - MW Arden - 18 laps
2) Aaro Vainio (FIN) - Koiranen GP - +7.784
3) Carlos Sainz (ESP) - MW Arden - +7.920
4) Tio Ellinas (CYP) - Marussia Manor Racing - +8.572
5) Daniel Kvyat (RUS) - MW Arden - +9.017
6) Kevin Korjus (EST) - Koiranen GP - +23.961
7) Facu Regalia (ARG) - ART Grand Prix - +24.472
8) Conor Daly (USA) - ART Grand Prix - +24.768
9) Nick Yelloly (GBR) - Carlin - +25.164
10) Dino Zamparelli (GBR) - Marussia Manor Racing - +26.566
Selected others
12) Jack Harvey (GBR) - ART Grand Prix - +27.648
17) Lewis Williamson (GBR) - Bamboo Engineering - +38.816
18) Josh Webster (GBR) - Status Grand Prix - +38.982
20) Ryan Cullen (GBR) - Marussia Manor Racing - +50.937
Melville McKee (GBR) - Bamboo Engineering - Not Classified
Drivers' Championship
1) Tio Ellinas - 55 points
2) Conor Daly - 51
3) Aaro Vainio - 43
4) Kevin Korjus - 37
5) Patric Niederhauser - 28
6) Carlos Sainz - 22
7) Robert Visoiu - 21
8) Facu Regalia - 20
9) Daniel Kvyat - 18
10) Jack Harvey - 13