'Lewis Hamilton twitter row evidence of McLaren tension'
Mercedes-bound driver apologised after accusing Button of unfollowing him on twitter
Last Updated: 09/10/12 12:55pm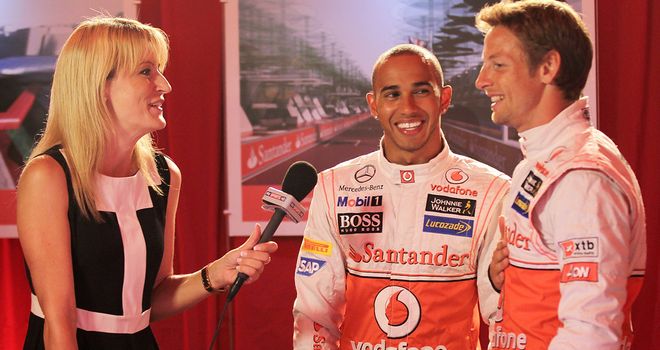 What will be seen as many as a triviality - with Hamilton accusing a 'disrespectful' Button of unfollowing him on twitter, only to apologise upon learning that his McLaren team-mate had never followed him - has been depicted across the backpages as an illuminating insight into the brooding disharmony threatening to engulf the team during Hamilton's final two months with the Woking outfit.
The Daily Telegraph says that the unedifying episode highlights how 'mistrust has been growing for some time' between the Mercedes-bound Hamilton and Button, with The Sun picking up the baton to suggest that the 'error is bound to cast more questions about the pair's dwindling friendship which could become a rivalry next season'.
Indeed, both broadsheet and tabloid are united in dressing up Hamilton's gaffe as a matter of critical significance.
According to The Times, the tweets are 'evidence that the façade of unity that Hamilton, Button and McLaren have presented to the world for months, according to insiders, has a large crack in it. They will need a knife to cut through the atmosphere in the McLaren motorhome when the Dream Team face each other for the first time since their private hostility was made painfully public.'
Meanwhile, a concurring Daily Mail adds, 'Hamilton's eagerness to castigate Button in public speaks volumes about his deteriorating relationship with his teammate. Button is known to have been furious at Hamilton's previous Twitter blunder during the Belgian Grand Prix.
'Upset at being unable to match Button's pace in qualifying after opting to run an older spec rear wing, Hamilton posted sensitive team telemetry information comparing his performance around Spa with that of his team-mate before being ordered to take it down.
'However, the tension between the pair stretches further back than that, with Button having been angered by Hamilton's earlier assertion that set-up information was not shared between the two sides of the McLaren garage.'
Neither Button nor McLaren have responded to Hamilton's u-turn. From the sounds of it, though, they are likely to face one or two questions about the furore from the press corps when the F1 circus arrives in Korea later this week.