Jenson Button has branded the MP4-27 as the worst car he has driven at McLaren
Former World Champion struggled for grip in Abu Dhabi
Last Updated: 06/11/12 3:03pm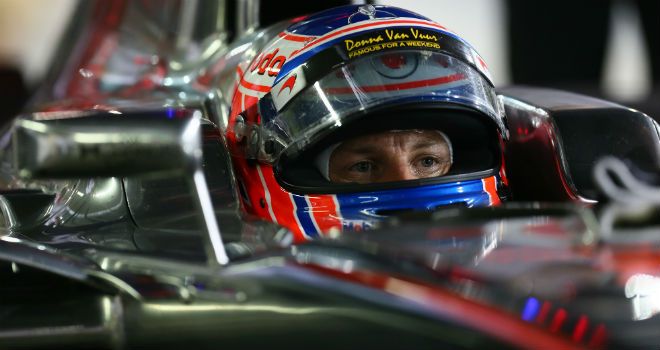 The 32-year-old finished fourth at the Yas Marina Circuit - behind Red Bull's Sebastian Vettel who started from the pitlane.
Button has taken just two wins all season - the opening Australian GP and in Belgium where he was in a league of his own - and McLaren look likely to finish outside the top two in the Constructors' Championship for the first time since 2009.
"This car hasn't suited me as well as McLaren's last two," he told The Guardian.
"Since I've been here this has been the worst year. It's been tricky, even on good weekends. We've had a problem pretty much every weekend, lately. We need to stop it. I don't get it.
"The weekend was weird. Friday was good, Saturday morning was good but qualifying and the race wasn't amazing. It wasn't horrendous but it wasn't amazing. We've got to try a few new things with the set up. I'm not happy with where it is at the moment. But hopefully next year will be perfect.
"Next year is exciting but we've still got two races where we want to do well in. We still want to get Ferrari in the constructors, but it's 22 points [behind] now, which is quite big. We need some good points in the next two.
"The car is quite unusual in the way that it works. It works really well for Lewis (Hamilton), and works really well for me at times. But the consistency isn't there."
The car certainly worked well for Hamilton in Abu Dhabi until his retirement. The Mercedes-bound driver enjoyed an advantage of over three tenths in the final part of qualifying and looked poised for victory until unreliability once again struck the 2008 World Champion's car.
"It's twice in the last five races," Hamilton said.
"And the cars, apart from India, have had problems in all five. In Singapore we had the gearbox failure, at Suzuka a rear rollbar malfunction, before qualifying and in the race, and in Korea a rear rollbar failure. Then we had India, which was fine, and then here. So that's four hardcore difficult weekends.
"I've been on pole position seven times this year. I have only won three times. In the other ones we've had failures and issues with pit stops and so on. If my car was as reliable as Sebastian's or Fernando's I would be right up with them now. But the team is strong and they will always bounce back."