Whitmarsh expects Hamilton to stay
Martin Whitmarsh expects Lewis Hamilton to commit his future to McLaren beyond the end of this season and go on to win many more races at the team.
Last Updated: 13/06/12 3:48pm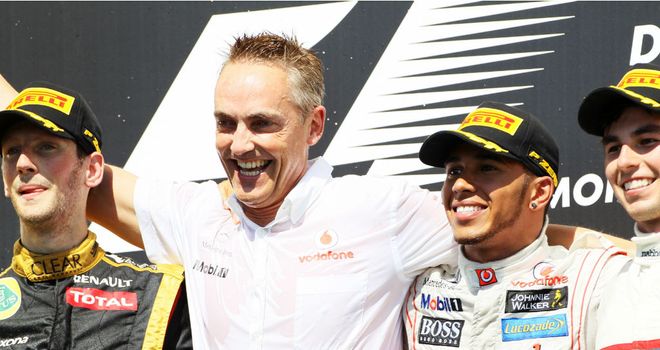 Martin Whitmarsh is optimistic Lewis Hamilton will commit his future to McLaren beyond the end of this season and go on to win many more races for the team in the style he achieved in Canada.
Hamilton's future plans remain one of the key issues of the moment in Formula 1 with the potential availability of the 2008 World Champion at the end of his current McLaren contract likely to interest all of McLaren's key rivals.
But despite an increase in speculation in recent weeks, McLaren Team Principal Whitmarsh has told Sky Sports News that media talk over Hamilton's future was not proving a distraction for the team and expressed confidence that their long-time relationship with the British driver would continue into 2013.
"There's much more speculation outside of the team than inside the team," he said.
"I think we're focused on winning the races and winning a championship. I think it's very clear that we enjoy working with Lewis. I think Lewis enjoys being in this team.
"So we have full expectation of that continuing."
Hamilton claimed his first victory since Abu Dhabi last November in sensational fashion at the Circuit Gilles Villeneuve last Sunday, the 18th of his career since he made his Formula 1 debut with McLaren five years ago.
Whitmarsh is confident there will be plenty more successes to come for the 27-year-old in McLaren colours, adding that both parties were currently completely focused on ending the year as World Champions.
"He's going to have many years ahead of him. He's going to have many great wins ahead of him. I believe he'll have those in this team," he said.
"People look for [and ask], 'is now a pivotal moment, or is this a special moment?' I think [in] all of our careers we are progressing, we're trying to improve, we're trying to achieve our goals. That's what he's trying to do; we're working with him and there's a really good relationship at the moment.
"The main goal for all of us is to win this year's championship."