Lewis Hamilton insists he has no regrets about his decision to join faltering Mercedes
Lewis says he remains "excited" to start his new challenge next year
By Pete Gill
Last Updated: 04/11/12 10:58am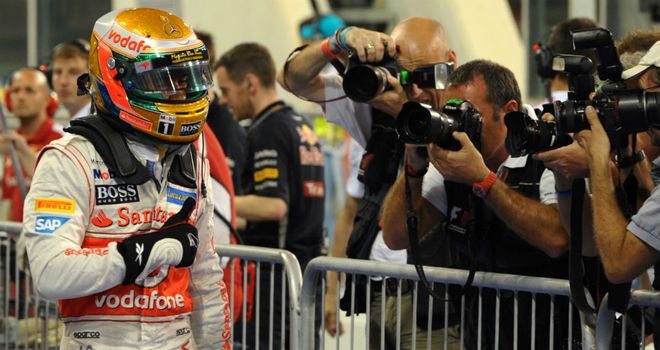 Mercedes' regression over the last month has been such that they have failed to score a solitary point in any of the last three races and been relegated from early-season winners to, arguably, as low as the seventh-fastest team on the grid. Hamilton, though, is not for turning.
True to a challenger-seeker who justified his decision to abandon proven winners McLaren for a Mercedes team with one victory in three years as an opportunity to become a team builder in the manner of Michael Schumacher at Ferrari, the worse Mercedes become the more satisfied Hamilton seems with his choice. You may not agree with his decision, but it's increasingly difficult not to admire the scale of his ambition. The as-yet unanswered question, however, is whether Hamilton is being courageous with his career or reckless.
"It makes me even more driven to help them score points," a steadfast Hamilton retorted to reporters when told of Mercedes' recent pointless existence. "I'm very happy with the decision I made."
Nor does the 2008 World Champion seem daunted by the size of the mounting challenge that awaits him when he officially begins work at Mercedes on January 1st.
"I already knew how big it was going to be," Hamilton added. "I really thought about it hard, and I could see how big it was.
"Perhaps it's growing, but as a task I'm really excited about it, excited to meet new people and to being in a different environment, and to mould myself into that environment."
Yet for all the brave words, it is hard to imagine Hamilton - who has won at least one race in each of his six seasons in F1 and will start Sunday's Abu Dhabi GP from pole position - enjoying the type of torrid existence that Michael Schumacher is being forced to endure as the German's career succumbs to an unbecoming and uncompetitive conclusion.
The good news for Hamilton - but bad for Schumacher, who line up thirteen places behind the pole-sitting McLaren this afternoon - is that Mercedes have already switched focus onto development of their 2013 charger, with technical director Aldo Costa assuming responsibility for the refurbishment of Hamilton's new office. The Englishman's bravado about the task ahead might be genuine, but even he cannot contemplate a repeat of a season in which Nico Rosberg's 'breakthrough' victory in China has proved the year's most deceptive act.
"It's good that they are looking at next year's car because that one needs to be a lot better than this one," Hamilton told Sky Sports F1.
In which case, why leave McLaren? Hamilton has already publicly assured his Woking successor Sergio Perez that the MP4-28 will be a "great car" and Jenson Button, Perez's future team-mate and Hamilton's soon-to-be-ex, is among those still baffled by his choice of 2013 ride.
"I don't know Lewis' reasons for going to Mercedes and I don't think we'll ever really know," the 2009 World Champion admitted to Sky F1. "It's difficult to expect them to win races consistently."
It is, but if you listen to Lewis, that difficulty is the paradoxical reason why Mercedes made him an offer too bad to refuse.