Luca di Montezemolo tells Ferrari Fernando Alonso needs a winning car for US GP
Ferrari President concerned why Abu Dhabi upgrade failed to deliver
Last Updated: 06/11/12 8:34am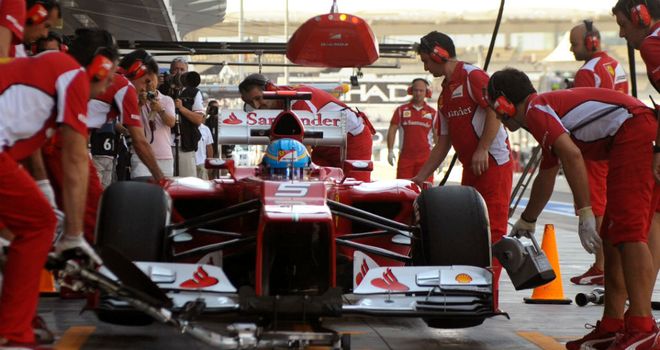 Entering what he describes as a "crucial ten days" for the team's title hopes, the Ferrari President stressed that the engineers at Maranello had to make tangible improvements to the F2012's competitiveness after the upgrade brought to Abu Dhabi didn't result in a step forward in qualifying.
"The weekend was hard to read," Montezemolo told Ferrari's official website. "That began with Saturday evening when I watched a situation that was not entirely clear.
"As far as Ferrari is concerned I want to understand why the new parts that we brought to the track only partially improved the performance of the F2012, which wasn't enough to allow Alonso to fight for the very front positions on the grid - despite the contrasting expectations of our engineers.
"Yesterday Fernando nonetheless produced his umpteenth great race of the season, in which he again gave 120% and he managed to fight for victory right to the end.
"But it's clear that we have to do more for the coming races. That is what I requested today of [Stefano] Domenicali and his team: we have 10 crucial days ahead, during which we must do everything to arrive in Texas with a car that can fight for the victory. Words count for nothing: this must be our target."
Speaking in wake of his second-place finish to Lotus's Kimi Raikkonen on Sunday night, a result which helped cut his championship deficit to Sebastian Vettel to ten points, Alonso expressed doubt that he would be able to secure his first win since mid-July in either Austin or the final race in Brazil.
The Spaniard, however, insisted that he nonetheless remained "confident" that he could overcome Vettel and Montezemolo agrees that everything is still to play for.
"Nonetheless I remain confident because everything is possible," the Italian added.
"It depends on us: yet again in these last 15 years we are involved in the title battle right up to the end and we have seen how much more difficult situations in the championship standings have been overturned. It's up to us not to leave any stone unturned: I am certain that the will to win drives the men and women who work for Ferrari and that everyone will work with absolute determination, giving the same 120% that Fernando keeps on giving. We want to win the World Championship."