Fernando Alonso says Ferrari have a 'very important weekend' ahead of them in Hungary
Scuderia star warns that losing more ground to Vettel might affect motivation
By Mike Wise in Budapest
Last Updated: 26/07/13 8:13am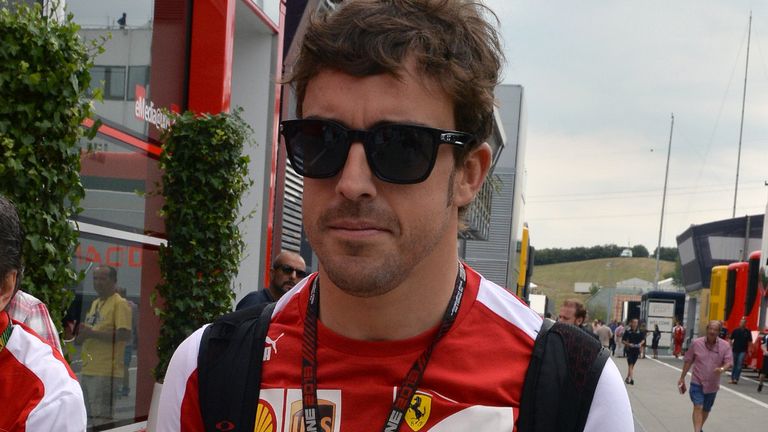 Alonso currently stands second in the Drivers' Championship but has lost valuable ground to leader Sebastian Vettel in recent weeks.
Vettel won two out of the last three races to pull ahead of Alonso, even though he suffered a rare retirement from the British Grand Prix.
One such victory for the defending World Champion came in his home German Grand Prix three weeks ago - a race which saw Alonso trail home in fourth place.
The gap between the pair now stands at 34 points and Alonso clearly does not want it to widen further heading into F1's summer shutdown.
"A good result is important. It's important because there is the summer break now and it will be good for the motivation of the team and good for our hopes, if we can close the gap a little bit with Sebastian," he said at the Hungaroring on Thursday.
"Before the summer break, if this gap increases it will be a very stressed summer break maybe for all of us and less motivation.
"So it's a very important weekend."
Alonso also said that Ferrari must be prepared to react in case the weekend's scorching weather forecasts prove accurate.
With some predicting that temperatures might reach 40 degrees Celsius, the Spaniard added: "Nothing has changed in the preparation. Whatever the temperature will be on Sunday, we will do our normal routine, the same as every weekend.
"We just need to be more open because of the strategy - with those temperatures, if there is the need for an extra stop on Sunday because of tyres. We'll understand this more tomorrow in the practice."