'Massa stalling driver market'
Ted Kravitz believes the drivers' market for 2013 is currently stalled due to the on-going uncertainty surrounding Felipe Massa's future at Ferrari.
By William Esler
Last Updated: 31/08/12 3:52pm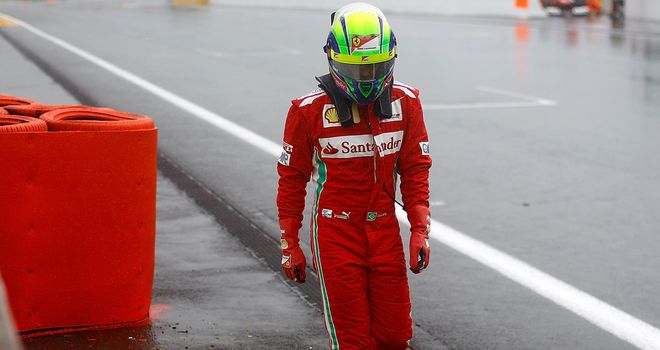 Sky Sports F1's Ted Kravitz believes the drivers' market for 2013 is currently stalled due to the on-going uncertainty surrounding Felipe Massa's future at Ferrari.
Having been comprehensively outperformed by Fernando Alonso during their time together at Ferrari, speculation is rife that the Scuderia will not extend the Brazilian's deal when it expires at the end of this season.
Massa has struggled throughout the current campaign and Kravitz believes the team may have already made their decision on his future.
"Team boss Stefano Domenicalli has spent most of his time on Alonso's side of the garage and plenty of people are wondering if Ferrari have actually made up their mind on whether to retain Felipe Massa," Ted reported during Sky Sports F1's coverage of the first practice session in Belgium.
"The noises coming out of Italy are that Ferrari have worked out that there might actually be no one better to replace him, but I wonder if that is a bit of a smokescreen for what is actually going on - which is that they are probably going to replace him.
"Plenty of people around the paddock are wondering whether it is going to be (Nico) Hulkenberg, (Paul) di Resta or (Sergio) Perez and I think that might be holding up some of the Michael Schumacher replacement stories as well, because if Hulkenberg or Di Resta did go they would go to the factory Mercedes team.
"I think it is interesting that Massa said 'I need to show the team there is no one better to do the job,' but the cold hard facts are he is not bringing in the points for the Constructors' Championship."
The crucial factor in deciding the Brazilian's future could be the emphasis Ferrari place on the Constructors' Championship, with David Croft suggesting that the Italian team need to decide which title they are aiming for.
"Alonso has 164 points, Massa has 25," noted Crofty. "There is a big difference. But he is playing the perfect number two role for Fernando Alonso, which I'm sure Alonso thinks 'thanks very much, that will do lovely.'
"But do Ferrari desperately want the Constructors' Championship or are they building a championship for Alonso with a view to going for the Constructors' next year. And then, do you replace Felipe Massa with a driver who will want to come in and establish themselves and race competitively or can you find someone who is good enough but who won't mind playing second fiddle to Fernando Alonso?"
Yet with Ferrari openly admitting that their car is difficult to drive, Anthony Davidson feels that Massa may not be underperforming. Instead, it may just be that Alonso is simply outdriving the car's potential.
"It is difficult for any driver to be alongside Fernando Alonso," the former Super Augri driver observed.
"Massa is trying his best, but it must be a tricky car to drive. And when it is a tricky car to drive then there is no one better than Fernando Alonso to get the best out of it.
"I think Felipe has to show what he can do during the rest of the season. Time is running out - it might already have run out. But then again, who else is out there? He's certainly still young enough, he's got the fire but the results just aren't coming."