Kimi Raikkonen has not ruled out the possibility of a move to Red Bull next season
Finn says it's much too early to make firm plans
By Mike Wise in Shanghai
Last Updated: 11/04/13 2:51pm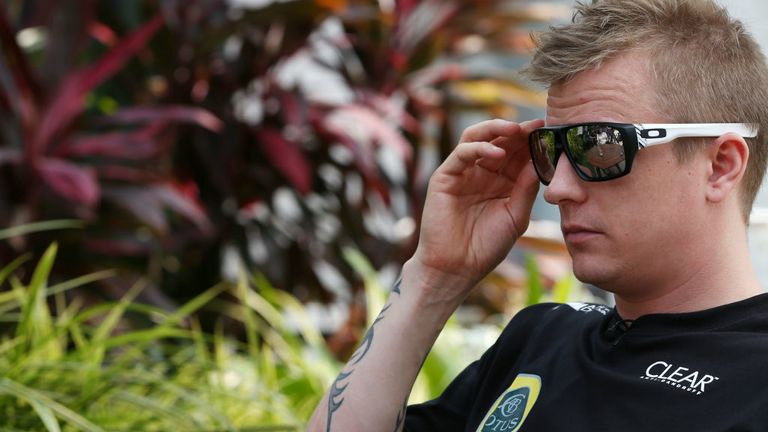 Raikkonen was mentioned as a possible target for the World Champions by Red Bull owner Dietrich Mateschitz last week. With Sebastian Vettel seemingly staying put, any move to Milton Keynes would therefore be as a replacement for Vettel's warring team-mate Mark Webber.
Speaking ahead of the Chinese Grand Prix on Thursday, the Australian said he would most likely discuss his future with Mateschitz in the summer.
Like Webber, Raikkonen is on a one-year rolling contract with his team Lotus and the former World Champion is apparently content to keep his options open.
"There's always other homes in Formula 1, that's normal. I don't have a contract for next year and I have no plans," he said.
"We'll see what happens. It's only two races old the season, so I'll try to do this year well and see what happens next year."
Having returned to F1 last season after two years spent rallying, Raikkonen finished a strong third in the Drivers' Championship and also won this year's season-opener in Melbourne.
He seems a natural fit with the easygoing Lotus team, yet the former Sauber, McLaren and Ferrari star downplayed the suggestion that their approach brings out the best in him.
"Like I've always said, all the teams are different and I have had a pretty good time at all the teams. They all have a different way of running and I try and achieve the same results," Raikkonen said.
"I wouldn't say this is much better than other places. I've never really had problems at any team I've been to. It's just a different place."
Webber's future at Red Bull has, of course, been the subject of much speculation since the Malaysian Grand Prix, which was won by Vettel after he ignored an order to stay behind his team-mate.
The subject remains the hot topic of debate in the Shanghai paddock - although Lotus's hospitality suite appears be the exception to the rule.
"There's a lot of times that teams will tell you what to do. It's normal in Formula 1," added Raikkonen when pressed on the subject.
"It's not about me or our team, so I'm not interested."