Martin Whitmarsh thinks Kimi Raikkonen does want to leave Lotus - but 'won't succeed'
McLaren haven't spoken to Finn; Button/Perez "deserve another go"
By James Galloway
Last Updated: 27/08/13 2:46pm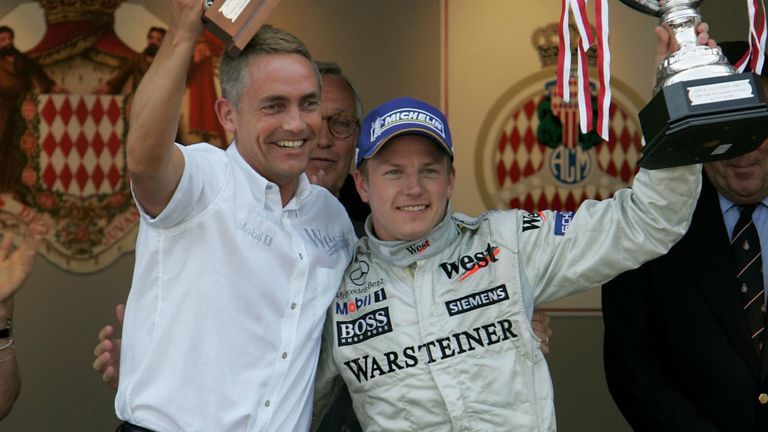 Raikkonen's potential movements for next season have proved a central factor in 'silly season' speculation over recent months, the 2007 World Champion initially the front-runner to replace the retiring Mark Webber at Red Bull and, in the last week, linked with a sensational return to Ferrari to partner Fernando Alonso.
Further rumours over the Belgian GP suggested McLaren, who Raikkonen drove for between 2002 and 2006, could also enter the running for the 33-year-old's services - although the Finn's current employers Lotus remain "confident" of convincing the highly-rated Finn to stay with them into a third season.
McLaren are thought likely to retain their current driver line-up of Jenson Button and Sergio Perez - with reports on Tuesday suggesting Button is poised to agree a new three-year-deal - but in regards to the possibility of reuniting with Raikkonen, Whitmarsh admitted the team have in the past given serious thought to bringing the Finn back to Woking, although they hadn't spoken with his representatives this time around as yet.
Asked if they had ever considered getting the 20-time race winner back, Whitmarsh told the official F1 website: "Yes, we have. Kimi has always been great and I am a big fan of him. There is a lot of speculation out there at the moment, so let's see what happens."
Whitmarsh then added: "I probably shouldn't be, but I'm completely open - last year we had talks with him, but for various reasons it didn't happen. This year we've had no talks - yet."
In addition to speaking to Raikkonen last season when McLaren were considering their options over who to replace Lewis Hamilton with should the Briton leave, as ultimately proved the case, McLaren also held talks with their former driver prior to signing Button in late 2009 after the Finn parted company with Ferrari.
Asked if one party could approach the other this time, Whitmarsh said: "Yes, could be. Obviously Kimi is determined to go somewhere else and I sense that he will not succeed in that goal, so let's see how he gets on there."
But although relatively coy over whether they could yet make a move for Raikkonen, Whitmarsh dropped a strong hint that McLaren would head into 2014 with an unchanged line-up.
"Bear in mind that Checo is still very young - he is ten years younger (than Jenson)," he said when asked Perez's performances.
"But I think one thing I have to say is that we haven't given our drivers the car we should have done this year. But they've been fantastic ambassadors and I think they deserve another go with us next year."