Brawn coy on 'difficult' Schu decision
Ross Brawn has admitted that the decision of whether or not Michael Schumacher continues racing for Mercedes into 2013 is a "difficult one".
Last Updated: 27/09/12 12:35pm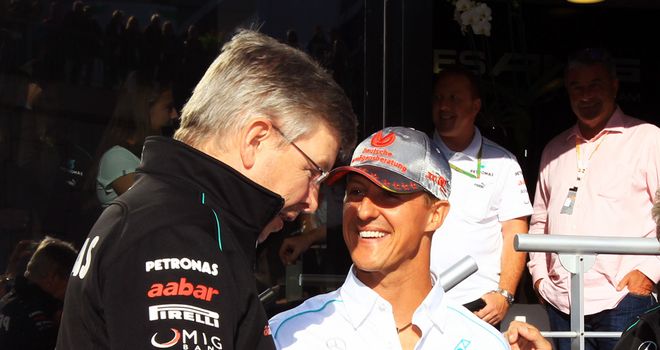 Mercedes chief Ross Brawn has admitted that the decision of whether or not Michael Schumacher continues racing for the team into 2013 is a "difficult one" but refused to indicate for certain whether or not he wants the seven-times Champion to sign a new deal.
Schumacher's future beyond the season-ending grand prix in Brazil at the end of November continues to be shrouded in uncertainty with the 43-year-old having repeatedly indicated over recent months that while he has yet to make his mind up, he will reveal his future plans sometime in October.
The decision over Schumacher's future at Mercedes is believed to be intertwined with what Lewis Hamilton decides to do for 2013 himself - the Brackley-based team are known to have made a formal effort to prise the 2008 World Champion away from McLaren at the end of the season.
German media suggested last weekend that should Hamilton defect to Mercedes then Schumacher, rather than Nico Rosberg, would indeed be the driver to make way - although, on the flip side, those reports suggested that should Hamilton stay on at McLaren, then the German will likely continue racing.
Brawn has given little away on the topic of Schumacher or Hamilton in recent weeks and speaking on BBC Radio 5 Live on both subjects on Thursday morning his coyness continued, although he did noticeably talk up the contribution the former has made to the team since coming out of retirement in 2010.
"It's still under discussion I'm afraid," he replied when asked about Schumacher's future.
"I can't comment very much on that, but Michael's been a huge asset to the team. He's really taken us forward."
Then asked if he would like his long-time colleague to stay on for 2013, Brawn simply said: "I do think Michael contributes an awful lot so I think that the decision for Michael to stay or not continue is a difficult one.
"Obviously he's very involved in that decision and discussions are going on at the moment."
Compared to the frenzied speculation at Monza that Hamilton was on the verge of joining Mercedes, the likelihood of the 27-year-old teaming up with Brawn's team has receded in more recent days with Sky Sports F1's Martin Brundle predicting in his column on this website that the German manufacturer would fail in their attempts to sign the British star.
Speaking on Thursday, Brawn didn't deny that Mercedes had made a move to bring Hamilton to the team - describing him as a "very good driver" - but hinted that rumour had outweighed fact in the saga over the Briton's future.
"Well I think any ambitious team looks at the top drivers and we're an ambitious team," he said. "But I think there is an awful lot of speculation. We will have some things to say in the next few weeks, next few months, and then it will all become clear."
And asked directly about Hamilton, Brawn simply said: "He's a very good driver, very good driver."