Nico Rosberg has called for some of F1's drivers to 'calm down' in wake of repeated first-lap accidents
German driver's car was hit on opening lap for second straight race
Last Updated: 16/10/12 12:09pm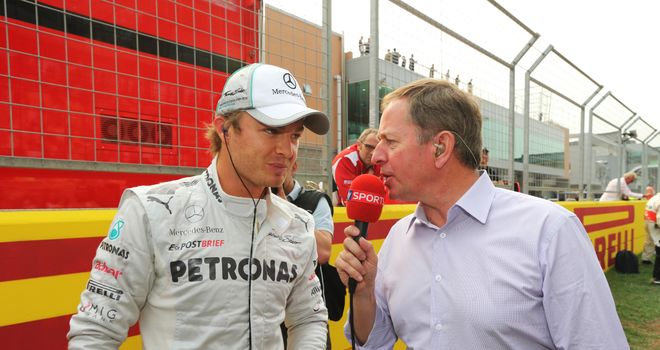 For the second weekend running the Mercedes driver's race was ended on the first lap when he was hit from behind by another car, Kamui Kobayashi tagging his rear wheel in Korea just seven days after Rosberg was spun out in Japan by Bruno Senna.
Button's Korean GP was also wrecked by Kobayashi outbraking himself into turn three and afterwards the McLaren driver, who had also nearly been taken out at the first corner, suggested that some "people need to learn race is not two corners".
Speaking in his regular post-race video blog, Rosberg explained that he felt some drivers were pushing over the limit.
"All in all really the two weeks, Japan and here, has just been really poor," the German driver said.
"Terrible to go out on the first lap both times. There's a bunch of drivers that are pushing too much and taking too many risks.
"They need to calm down a bit I think."
The driving standards being displayed by the younger generation on the F1 grid has proved a consistent talking point throughout the season, particularly in wake of the Belgium GP last month when Romain Grosjean became the first driver to be banned from a race in nearly 20 years for causing a multi-car pile-up.
Speaking to Sky Sports F1 in the aftermath of Button's early exit last Sunday, McLaren chief Martin Whitmarsh suggested that with uncertainly surrounding so many drivers' futures across the grid's midfield teams, they were being too eager to make an impression.
"There is a lot of pressure," Whitmarsh observed.
"On the one hand Felipe [Massa]'s woken up and seems to be responding well to that pressure but as you go down into the middle of the grid there there's a lot of drivers there who are [making mistakes].
"We've now had the last four or five races a lot of wildness there and that's destroying races for people who are out there trying to score points, trying to contribute to winning World Championships and that's a great shame."