Lotus are happy with the extra performance gained from their Coanda exhaust
Technical Director says even more to come from new system
By William Esler
Last Updated: 22/10/12 1:05pm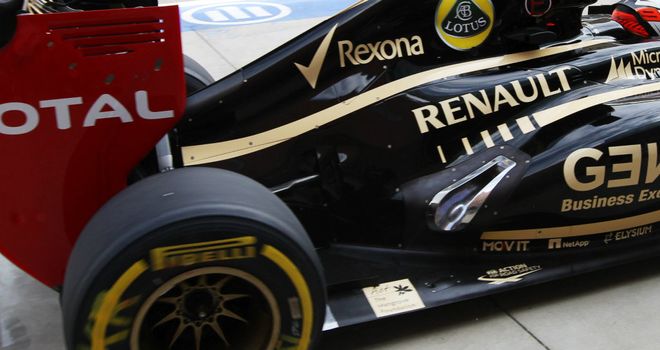 The system generates more downforce - but lowers the power output of the engine - meaning it is a delicate balancing act for teams running the system.
Along with the new exhaust layout, Romain Grosjean also ran with a new front wing and Allison was satisfied with how both updates performed.
"It was a solid debut for the Coanda system and we will see both Kimi and Romain using it in India," he said.
"We were reasonably pleased with how it performed on its first outing. We knew that our first implementation would be a little power hungry, but we hoped for - and were delighted to register on the track - a good downforce boost.
"Our initial design was already a step forward relative to the previous system, but we expect more from this package as we modify the exhaust to recover much of the lost power.
"Romain used a new front wing in Korea which has proved to be a mild step forward and will be available to both drivers in India."
With just four races to go, most teams outside of the title battle are already switching their attention and resources to their 2013 cars. However, with reasonably stagnant rules over the winter, Allison says Lotus have a three-way split on their resources: pushing ahead with the E20, working on the 2013 car, whilst also getting ready for the major rule changes 2014 will bring.
"This question comes up a lot at the tail end of the season" he added.
"In a normal year, the answer would be that the focus has pretty much shifted to next year's car already. This is not a normal year though. Every team on the grid is facing the unprecedented challenge of working simultaneously on three cars. There are two principal reasons for this : Firstly, the rules for 2013 are relatively unchanged which - combined with the quite tight grid - means that there is still merit in developing the 2012 car even this late in the season.
"Secondly, the looming shadow of the 2014 regulations demands our attention. Anyone who followed the sport in 2009 will know that a large shake up in the regulations presents both opportunity and hazard which can significantly re-jig the traditional pecking order of the teams.
"The regulatory revolution for 2014 makes the 2009 changes look trivial by comparison. Choices have to be made with three babies competing for development food ; do you put resources into the E20 and get as much out of it as possible or is it more prudent to make the most of what will be 'the last hurrah' for this generation of rules in 2013 ?
"Alternatively, is it right to focus more on the longer term future with the 2014 rules that will form the basis of the next generation of F1 cars ? It's a very finely balanced judgement and one that is a fascinating challenge. By the end of the 2014 season we should know if we made the correct decisions."