Best yet for Ricciardo
Daniel Ricciardo admitted he exceeded both his own expectations and those of Toro Rosso in qualifying sixth for the Bahrain Grand Prix.
By Mike Wise in Manama
Last Updated: 21/04/12 8:51pm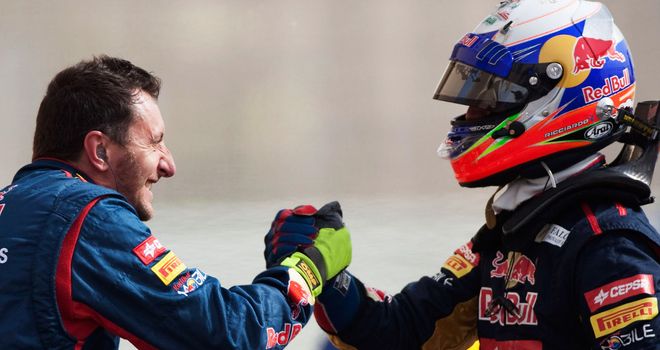 Daniel Ricciardo admitted he exceeded both his own expectations and those of Toro Rosso in qualifying sixth for the Bahrain Grand Prix.
The Australian enjoyed his best qualifying session yet in Formula 1 on Saturday with a lap only half a second slower than that of polesitter Sebastian Vettel.
Ricciardo said he and his team opted for the best possible grid position rather than save rubber for the race at the desert-bound Sakhir track, which is likely to test tyres to their limit.
"In Q3, I was happy they sent me out - I was hoping they wouldn't keep me in the pits to save the tyres because I was enjoying myself," he said. "In the end it paid off: we gained quite a few positions by going out and sixth is a great place to start the race from tomorrow.
Describing his flying laps, Ricciardo said: "The car was reacting quite well in the heat. And then it got better and better each run: we were able to improve the lap time and I was getting for more confident and a better rhythm.
"We exceeded, I think, our expectations - or even mine - because I knew I felt good in the car. But even when we cracked the 33 bracket, I was like 'Wow, that's pretty cool'.
"I saw the top guys do 32.7 or something like this and I was 'Well I'd love to be in the 32s'. And I crossed the line and I did a 32.9 and I was like 'This has been a good day'".
Even so, the 22-year-old goes into the race without the tyre advantage enjoyed by the likes of Fernando Alonso and Paul di Resta, who start ninth and 10th respectively after opting not to set times in the third session.
However, Ricciardo is optimistic his car can stay in the hunt for points as he feels set-up changes made overnight will also help it on a heavier fuel load.
"I did some changes overnight that on paper, or on the data, looked like it was going to help. It's always a bit different on track sometimes but it worked this morning - we were quite competitive this morning," he said.
"I feel much more confident today because I guess yesterday we did the long runs with a different set-up to what we ran today. Obviously the car's proved better today on lower fuel, so you'd think it should be better as well with higher fuel."
Although team-mate Jean-Eric Vergne starts down in 19th, Ricciardo's performance will be a fillip for Toro Rosso after both drivers struggled in China last weekend.
Updates to the STR07 failed to have the desired effect in Shanghai but Ricciardo said the team were now on the right track.
"We've still got the same updates but we've just made sure they're doing their job better," he said.
"Obviously China was a bad weekend but at least we've not understood why it didn't work in China and why it's worked here."