Vergne stays focused on the present
Jean-Eric Vergne insists he is just concentrating on the here and now rather than viewing his intra-team duel with Daniel Ricciardo as an effective RBR shoot-out.
Last Updated: 26/04/12 11:34am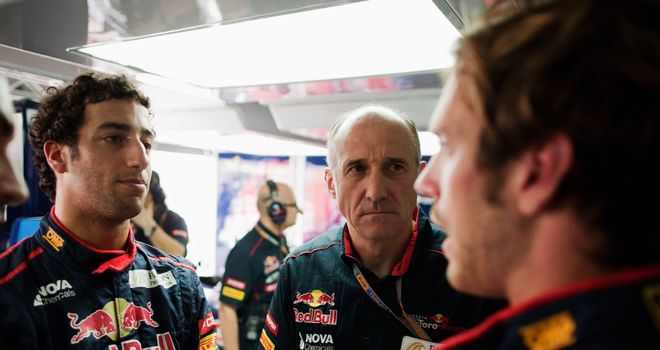 Jean-Eric Vergne insists he isn't viewing his intra-Toro Rosso battle with team-mate Daniel Ricciardo as effectively a fight for a future Red Bull drive alongside Sebastian Vettel.
The decision by the Red Bull hierarchy to controversially drop both former protégés Sebastien Buemi and Jaime Alguersuari from junior team Toro Rosso's line-up in favour of Vergne and Ricciardo for 2012 has led to speculation that one of the two is likely to eventually make the step up to the senior World Championship-winning RBR team when Mark Webber leaves.
With Webber, who turns 36 in August, only on a rolling one-year deal, there have been widespread suggestions that Vergne or Ricciardo could be promoted as early as next year - although Toro Rosso Team Principal Franz Tost more recently played down such talk.
Nonetheless, Frenchman Vergne says he isn't focusing on what might happen in the more distant future and is just focused on helping Toro Rosso be as successful as possible in the here and now.
"Some people will tell you that we are in a fight for the Red Bull cockpit, but I don't see that right now," he told the official Formula 1 website.
"I am racing for Toro Rosso and I want to help make the car a points contender. I have no interest finishing in P15 ahead of him. I'd rather finish in P4 behind him if that meant I had a quicker car.
"Did I just say finish behind him? No, I don't think that I would like this! (laughs) Only the part about fighting at the front is true. Forget about the rest..."
In contrast to team-mate Ricciardo, who competed in the final 11 Grands Prix for HRT last season, 21-year-old Vergne has been cutting his F1 racing teeth in the opening four flyaways of the campaign.
But while he opened his points account at just the second attempt in Malaysia - finishing eighth in wet conditions - he admits he hasn't been entirely happy with his performances so far.
Asked if he was satisfied with the start to his F1 career, Vergne replied: "Ha, well, yes and no. Yes, because I think it's quite good, and no, because I think it could have been better.
"Of course I could use the excuse of being a rookie, but I don't want to because I've made some mistakes that should not have happened to a driver, no matter what your status. I actually don't believe so much in that rookie status thing. I am a fully-fledged driver."