Williams Sepang Q&A
Williams' Chief Operations Engineer Mark Gillan on the team's strong performance in Malaysia, the challenges of making the right strategy calls and more...
Last Updated: 28/03/12 3:11pm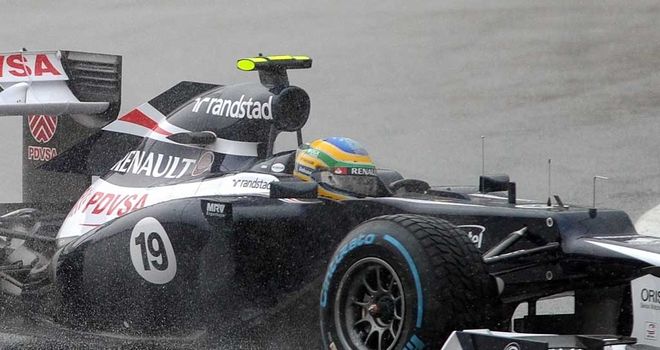 Mark Gillan on an encouraging second round to the season for Williams:
How would you sum up the overall performance of the FW34 around Sepang?
Mark Gillan: "Overall I am very pleased. It was a difficult weekend to manage due to the weather, especially in the race, but both the car and drivers did well in the changeable conditions and it is pleasing to come away from Malaysia with eight points. The FW34 was particularly strong on the green, drying track."
Bruno drove well to go from 23rd at the re-start to 6th. What were the decisive moments in the race for him?
MG: "Bruno had an excellent drive and critically he managed his intermediate tyres very well on the drying track which allowed us to extend this stint and switch to the medium dry tyre at the optimal moment."
How difficult was it to judge the call for slick tyres during the race?
MG: "We monitored the drop off of the intermediate tyre with regards to the theoretical switch over point to the dry tyre and, with this information combined with driver feedback, we were able to make the call to change from intermediate tyres to dry tyres at the right time."
Has Renault pin-pointed the cause of Pastor's engine problem which led to his retirement?
MG: "Yes, Renault have found out what the problem was and this engine will return to Viry for further analysis."
The team has already scored more points than in 2011. How would you describe the atmosphere in the team at the moment?
MG: "There is a buzz in the team at the moment and everyone is very pleased that the development of the FW34 is heading in the right direction and the whole factory is keen to see this trend continue."
Next stop China. What are the specific challenges of the Shanghai International Circuit?
MG: "The main challenge at Shanghai is that the track is very hard on tyres, so tyre management is key to success."
Can we expect to see some upgraded parts on the FW34 at the next race?
MG: "We sustained quite a lot of bodywork damage in Malaysia so the first objective is to replace all of these components, but we do intend to bring some updates to the race."