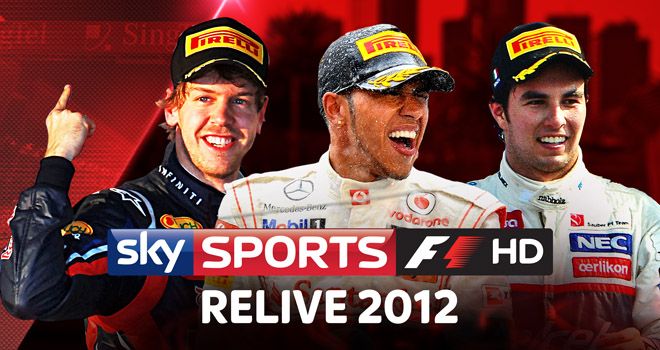 As the 2012 F1 season nears its climax, Sky Sports F1 HD are giving you the chance to relive the action each day (excluding race weekends) - starting with all the programming from Australia on Tuesday.
Fans will be able to watch 90-minute highlight packages of each race - whilst for those in a rush, the "F1 Fast Track" will provide an action-packed 30 minute review.
The main highlight package will air at 9:30pm each evening providing your nightly entertainment. The F1 Fast Track will air at 6pm giving you a tea-time F1 fix.
Added to that will be all the action from the supporting GP2 and GP3 races - plus "The Weekend in Stills" giving a unique insight into an F1 weekend and "The Weekend in Words" so you can remember who said what.
Tuesday 30th October
6pm - F1 Fast Track - Australia
9:30pm - 2012 Australian GP Highlights
Wednesday 31st October
6pm - F1 Fast Track - Malaysia
9:30pm - 2012 Malaysian GP Highlights
11pm - GP2 Round 1 Malaysian Feature Race Replay
12:25am - GP2 Round 1 Malaysian Sprint Race Replay
Thursday 1st November
9am - Weekend in Words - China
10am - Weekend in Words - Bahrain
12:40pm - GP2 Round 2 Bahrain Feature Race Replay
2:05pm - GP2 Round 2 Bahrain Sprint Race Replay
3:10pm - GP2 Round 3 Bahrain Feature Race Replay
4:35pm - GP2 Bahrain Round 3 Sprint Race Replay
5:40pm - Porsche Supercup Bahrain
6pm - 2012 Chinese GP Highlights
9:30pm - 2012 Bahrain GP Highlights
12:10am - Weekend in Stills - China
12:40am - Weekend in Stills - Bahrain
Tuesday 6th November
12:50pm - Weekend in Words - Spain
2:50pm - GP3 Spain - Race 1 Replay
3:40pm - GP3 Spain - Race 2 Replay
4:30pm - GP2 Round 4 Spain Feature Race Replay
6pm - F1 Fast Track - Spain
6:30pm - GP2 Round 4 Spain Sprint Race Replay
9:30pm - 2012 Spanish GP Highlights
11:30pm - Weekend in Stills - Spain
Wednesday 7th November
2pm - Weekend in Words - Monaco
4pm - Porsche Supercup Monaco
4:15pm - GP3 Monaco - Race 1 Replay
5:05pm - GP3 Monaco - Race 2 Replay
6pm - F1 Fast Track - Monaco
6:30pm - Weekend in Stills - Monaco
8pm - GP2 Round 5 Monaco Feature Race Replay
9:30pm - 2012 Monaco GP Highlights
11pm - GP2 Round 5 Monaco Sprint Race Replay
Thursday 8th November
5pm - Weekend in Words - Canada
6pm - F1 Fast Track - Canada
6:30pm - Weekend in Stills - Monaco
9:30pm - 2012 Monaco GP Highlights
Friday 9th November
2pm - Weekend in Words - Europe
4pm - Porsche Supercup Europe
4:20pm - GP3 Europe - Race 1 Replay
5:10pm - GP3 Europe - Race 2 Replay
6pm - F1 Fast Track - Europe
6:30pm - GP2 Round 6 Europe Feature Race Replay
9:30pm - 2012 Monaco GP Highlights
12am - GP2 Round 6 Europe Sprint Race Replay
1:05am - Weekend in Stills - Europe
Saturday 10th November
7am - Weekend in Words - Britain
9am - GP3 Britain - Race 1 Replay
9:55am - GP3 Britain - Race 2 Replay
11:45am - Weekend in Stills - Britain
12:15pm - F1 Fast Track - Britain
12:45pm - GP2 Round 7 Britain Feature Race Replay
14:10pm - GP2 Round 7 Britain Sprint Race Replay
15:15pm - Porsche Supercup Britain
6pm - F1 Fast Track - Britain
9:30pm - 2012 British GP Highlights
Sunday 11th November
7am - Weekend in Words - Germany
9am - GP3 Germany - Race 1 Replay
9:55am - GP3 Germany - Race 2 Replay
11:45am - Weekend in Stills - Germany
12:15pm - F1 Fast Track - Germany
12:45pm - GP2 Round 8 Germany Feature Race Replay
14:10pm - GP2 Round 8 Germany Sprint Race Replay
15:15pm - Porsche Supercup Germany
6pm - F1 Fast Track - Germany
9:30pm - 2012 German GP Highlights
Monday 12th November
3pm - Weekend in Words - Hungary
4pm - Porsche Supercup Hungary
4:20pm - GP3 Hungary - Race 1 Replay
5:10pm - GP3 Hungary - Race 2 Replay
6pm - F1 Fast Track - Hungary
6:30pm - Weekend in Stills - Hungary
9:30pm - 2012 Hungary GP Highlights
11pm - GP2 Round 9 Hungary Feature Race Replay
12:25am - GP2 Round 9 Hungary Sprint Race Replay
Tuesday 13th November
3pm - Weekend in Words - Belgium
4pm - Porsche Supercup Belgium
4:20pm - GP3 Belgium - Race 1 Replay
5:10pm - GP3 Belgium - Race 2 Replay
6pm - F1 Fast Track - Belgium
6:30pm - Weekend in Stills - Belgium
9:30pm - 2012 Belgium GP Highlights
11pm - GP2 Round 9 Belgium Feature Race Replay
12:25am - GP2 Round 9 Belgium Sprint Race Replay
Wednesday 14th November
3pm - Weekend in Words - Italy
4pm - Porsche Supercup Italy
4:15pm - GP3 Italy - Race 1 Replay
5:05pm - GP3 Italy - Race 2 Replay
6pm - F1 Fast Track - Italy
6:30pm - Weekend in Stills - Italy
9:30pm - 2012 Italy GP Highlights
11pm - GP2 Round 9 Italy Feature Race Replay
12:25am - GP2 Round 9 Italy Sprint Race Replay
Thursday 15th November
1:50pm - Weekend in Words - Singapore
3:20pm - GP2 Round 10 Singapore Feature Race Replay
4:50pm - GP2 Round 10 Singapore Sprint Race Replay
6pm - F1 Fast Track - Singapore
6:30pm - Weekend in Stills - Singapore
9:30pm - 2012 Singapore GP Highlights
Tuesday 20th November
4pm - Weekend in Words - Japan
6pm - F1 Fast Track - Japan
9:30pm - 2012 Japanese GP Highlights
1am - Weekend in Stills - Japan
Wednesday 21st November
4pm - Weekend in Words - Korean
6pm - F1 Fast Track - Korea
9:30pm - 2012 Korean GP Highlights
12:30am - Weekend in Stills - Korea