Sky Sports F1 Q&A: Ted Kravitz on Mercedes' management restructure
Could Ross Brawn be leaving...and just what will Lewis be thinking?
Last Updated: 23/01/13 8:49am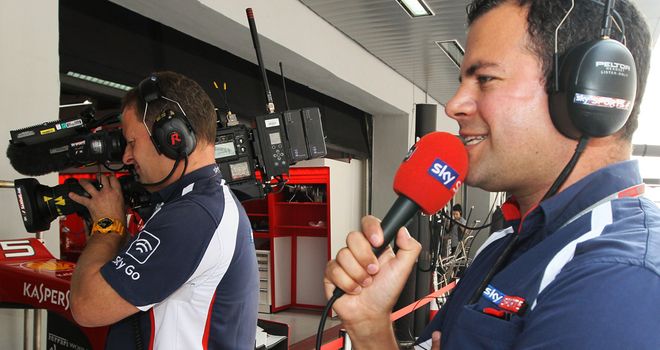 So what's going on at Mercedes?
TK: "The last few weeks have seen some intense activity at the top of Mercedes GP team. And we're only now starting to understand what's been going on. I think the first point to be clear on is that Niki Lauda is in charge. He clearly doesn't understand the non-executive part of his title, which is meant to be non-executive chairman because he's been acting very much as an executive chairman. Ever since he joined the team, I understand that Lauda has even made it clear to Ross Brawn that Brawn reports to him and that he then reports to the Mercedes board. So there's clearly a big change going on at the management of the team."
And how does Toto Wolff fit into Mercedes' management?
TK: "He's been brought in as 'executive director', which sounds an awful lot like a Team Principal to me. Brawn is a very proud man and you can imagine that he might have taken Lauda's appointment above him in his stride. But having someone like Wolff, with much less experience, come in alongside must have been grating for the World championship-winning team boss."
So where does this leave Brawn?
TK: "From what Wolff was saying in Tuesday's phone-in conference, that's clearly what they're discussing at Mercedes. There's no doubt that the team is, technically speaking, top-heavy with not only former Technical Director Ross Brawn as Team Principal but also three other former Technical Directors in Bob Bell, Geoff Willis and Aldo Costa performing technical and engineering directorship roles. I understand that Lauda agrees with the rest of the F1 paddock: that this is rather more Technical Directors than one team needs. As for Brawn's position, he acts as the conductor of an orchestra and is a big figure - both physically and metaphorically - in tying the team together."
So what happens next?
TK: "I don't think it's out of the question that Brawn could leave and I don't think it would have been his choice for it to end up that way. And what Lewis Hamilton would think of it, heaven only knows..."
Why might Lauda not want to keep Brawn?
TK: "I don't think it's that Brawn has done anything wrong, but there are two aspects to look at here. Firstly, whatever has been happening under Mercedes with Brawn at the helm since they won the Championship as Brawn in 2009 hasn't worked. They've just had the solitary win with Nico Rosberg in China in 2012, although there are good reasons why they haven't been able to achieve more. They've been working under a smaller budget than the likes of Red Bull and Ferrari and they've been integrating the team into the larger Mercedes family. But Lauda may consider that the new broom philosophy should extend to more people than just Norbert Haug [who left at the end of 2012]. There is a school of thought - one to which I must stress I don't subscribe, and I don't know if Lauda does - that Brawn needs a big rule change to win Championships like he did in 2009, or that he needs everything tipped in their favour like at Ferrari in the early 2000s to dominate.
"This may explain why some people might not rate Brawn. But F1 is about to have its most significant rule change in a long while with the new engine and fuel consumption formula coming in for 2014. So you'd certainly want a lateral thinking technical leader like Brawn in your team next year - not to mention a man with the sharpest brain when it comes to race strategy."
So, to return to your earlier point, just what will Lewis Hamilton make of all this?
TK: "He certainly won't be happy with the disruption to the team's equilibrium just two weeks before pre-season testing starts in Jerez. Any big change at the top of the team is unsettling and disturbing by definition. But I think there are two things that might mean that Hamilton isn't too worried. Firstly, it was Lauda who made all the moves in convincing Lewis to join Mercedes in the first place. The rumour is that Niki sealed the deal with Hamilton by text over the Singapore Grand Prix weekend.
"So Hamilton has signed up for Lauda's vision of where he wants to take Mercedes - wherever that takes the technical leadership of the team. Secondly, Hamilton knows this is a long term project for him and that if something hasn't been working with a certain management team in charge, it doesn't make sense to keep on going with the same management and not change things.
"But on the other hand, there'd be another couple of things the neutral would say about this. Firstly, Lauda's previous attempt at team management didn't end particularly well with the Jaguar team being sold by Ford to Red Bull for £1. And also Lewis has, during his time at McLaren, seen from the outside how effective Brawn can be as a team boss. I remember when he announced his Mercedes deal, he made a point of saying he was looking forward to working under Brawn and that he respects him.
"So if Brawn doesn't stay for whatever reason then I would imagine Hamilton will, deep down, be little bit disappointed. Finally, what it boils down to is that in recent seasons, the Mercedes car hasn't been good enough - and that must be down to the design team. Ever since the double diffuser, their design team has not managed to produce the goods.
"Last year's foray down the double DRS route, while it helped them early on in the season, ultimately was a dead end. All Lewis needs is a well-designed car. He already knows the Mercedes engine is strong and his own abilities are not under question. So that only leaves the car. Surely all Mercedes attention should be on getting the aerodynamics and mechanics right rather than messing around tweaking their management structure. Hamilton will support the team whatever they do but privately he'll be saying, 'Just give me a good car and I'll do the rest'."