Sky Sports F1's 2013 Chinese GP schedule
A taste of what you can expect to find across our six live shows
Last Updated: 10/04/13 9:42am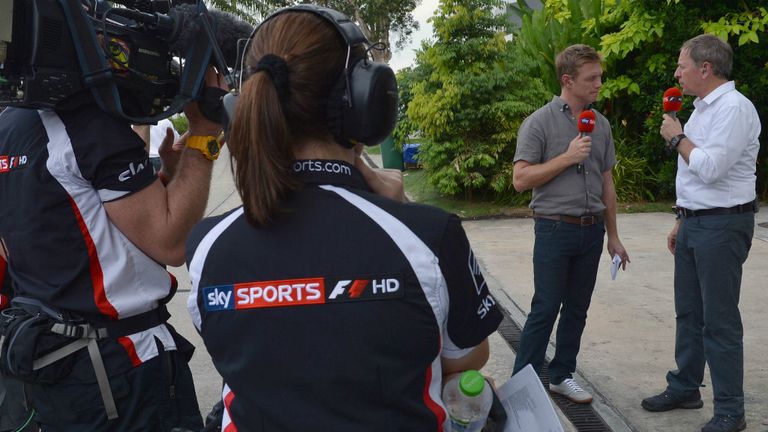 When the paddock dispersed in Sepang little under three weeks ago the Sebastian Vettel/Mark Webber team orders row was the hot topic on everyone's lips and the resultant break has done little to change that ahead of round three of the campaign.
The fallout from the intra-team Red Bull feud with naturally feature prominently as Sky Sports F1, as ever, brings you the most extensive coverage of the Shanghai weekend from Thursday's drivers' press conference day all the way through to Sunday and the big 56-lap race itself.
The Chinese GP represents your final middle-of-the-night start until the final months of the season and to reward you for your commitment to getting up - or staying up! - to watch P1 from 2.45am and P2 from 6.45am on Friday, The F1 Show has a number of must-watch items lined up when the team come on air at the more leisurely hour of 11am from Shanghai.
We'll have a live interview with Red Bull Team Principal Christian Horner, while Crofty takes a trip with several leading journalists down to Shanghai's historic waterfront Bund area to chew the fat on the World Champions' Sepang controversy and look ahead to the Chinese weekend.
Williams will also feature heavily in Friday's edition as we hear from their new Deputy Team Principal Claire Williams, while their drivers become the latest pair to try and tame the Horse Power Tower.
Saturday's Qualifying show comes on air at 6am and during the course of the one-hour build-up we'll look both backwards and forwards as 2012 winner - and general Shanghai specialist - Nico Rosberg recalls his brilliant maiden F1 win with Martin Brundle while Jenson Button, a China winner himself in 2010, joins Johnny Herbert at the SkyPad to assess the challenge presented by a track now into its tenth season on the calendar.
Meanwhile, highlights in Sunday's Race Day Show - which starts at 6.30am - are plentiful and include the first feature in a new 'F1 Uncovered' series in which we lift the lid on F1 technology. First up it's KERS, which Ted Kravitz guides you through with the help of Williams' Pastor Maldonado, while in in the first instalment of a separate 'Red Bull - Road to Greatness' item we'll start to chart their spectacular rise to F1 dominance at the very circuit they claimed their breakthrough win at back in 2009.
With Natalie Pinkham out with the drivers on the pre-race parade and Martin's Grid Walk and Ted's post-race Notebook, as always, guaranteed to be must-watch items there's plenty of reason to discard that usual Sunday morning lie-in for this particular weekend!
So make sure you join us for all of that, and a whole lot more, across the Chinese GP weekend on Sky Sports F1. And in addition to the dedicated TV channel, remember our live coverage is also available on the Sky Sports App and on the move with Sky Go.
SKY SPORTS F1's SCHEDULE
Tuesday April 9
8.00pm - Classic Races - 2007 Chinese GP.
10.15pm - Classic Races - 2008 Chinese GP.
Wednesday April 10
8.00pm - Classic Races - 2009 Chinese GP.
10.30pm - Classic Races - 2010 Chinese GP.

Thursday April 11
8.00am - Drivers' Press Conference - Live!
5.45pm - Gear up for China.
7.00pm - Classic Races - 1993 European GP (Highlights).
8.00pm - Classic Races - 2011 Chinese GP.
Friday April 12
2.45am - Chinese GP Practice One - Live!
6.45am - Chinese GP Practice Two - Live!
9.00am - Team Principals' Press Conference - Live!
11.00am - The F1 Show - Live!
Saturday April 13
3.45am - Chinese GP Practice Three - Live!
6.00am - Chinese GP Qualifying - Live!
12.30pm - Chinese GP Qualifying Replay.
9.15pm - Ted's Qualifying Notebook.
Sunday April 14
6.30am - The 2013 Chinese GP - Live!
11.30am - F1 Legends - Tony Brooks.
1.00pm - Chinese GP Replay.
7.30pm - Ted's Race Notebook.
For full Sky Sports F1 listings, including show replays, visit the online TV Guide or check your Sky Planner.