GAA: Dublin's Leinster final victory over Meath is marred by allegation of biting
Last Updated: 21/07/14 10:20am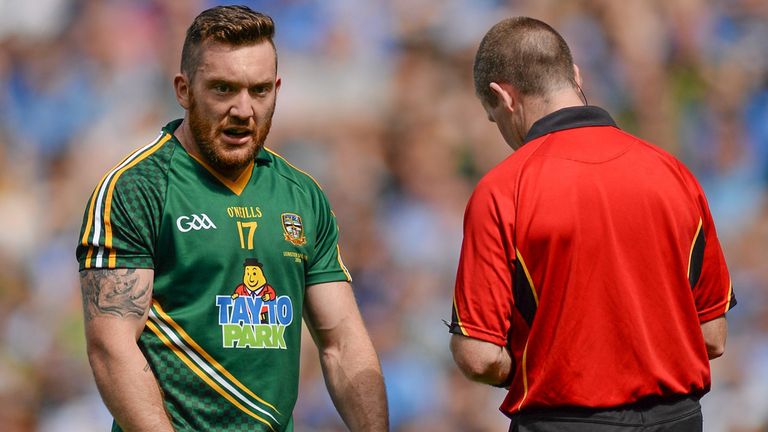 Dublin's devastating Leinster Championship victory has been clouded by an allegation of biting from Meath manager Mick O'Dowd.
O'Dowd claimed one of his players had his finger bitten towards the end of the game, and afterwards needed the attention of the team doctor.
O'Dowd had just finished his post-match reaction to their 3-20 to 1-10 defeat in Croke Park when he came back into the press conference room, clearly upset at something, and with that claimed he "wanted to report a biting incident" on one of his players - later identified as Michael Burke.
"I've just come back to the dressing-room after speaking to you," said O'Dowd, "and I see the doctor dealing with his finger, and he (the doctor) has gone to the Dublin dressing-room to talk to the Dublin doctor, because there's a protocol to deal with in terms of a bite, in terms of blood transferring from one person to another."
Asked was he disappointed with the incident O'Dowd replied: "Extremely disappointed."
The press conference of Dublin manager Jim Gavin then followed, although when the allegation was brought to his attention, he replied: "Well that's the first I heard of it."
Shortly after that, Burke was seen leaving the Meath dressing room with the middle finger of his left hand covered in a plaster, although it did not appear to be a serious wound. No one from the Dublin backroom team or county board would confirm the Meath allegation.
Burke came on at half-time, replacing Damien Carroll, and was later involved in a general melee in front of the Meath goal, on 63 minutes, after which he and two other players - Meath goalkeeper Paddy O'Rourke and Dublin's Eoghan O'Gara - were booked.
However, there will now likely be an investigation by the Dublin county board, assuming the Meath allegation is lodged formally.