GAA: Donegal manager Jim McGuinness says Dublin's resources gives them an advantage
Last Updated: 20/08/14 6:02am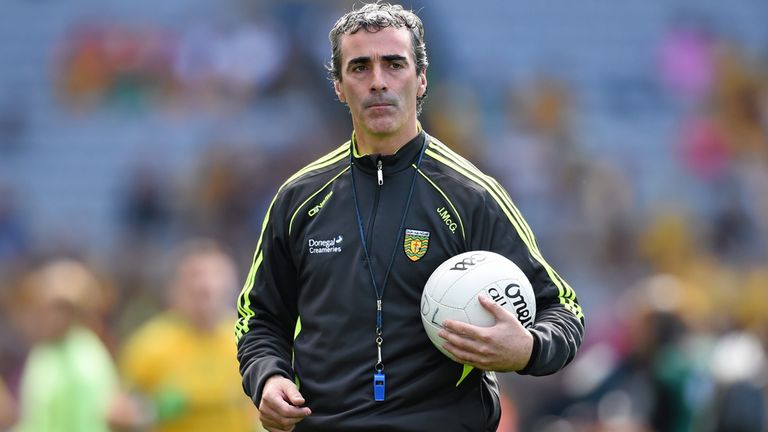 Donegal manager Jim McGuinness has compared Dublin's resource advantage to that enjoyed by Chelsea in the Premier League in the years after Roman Abramovich began to invest heavily.
Ahead of the counties' All Ireland semi-final meeting on August 31, McGuinness says that it is valid for the rest of the country to worry about how to keep pace with Dublin heading into the future.
"Oh it is. It has to be," he said. "I think the divide is becoming bigger and bigger. I think Dublin are way out in front of any other team.
ALL-IRELAND SFC
SEMI-FINAL
Dublin v Donegal
Sunday, August 31
Live on Sky Sports 3
"I suppose if we were having this conversation 10 years ago, you would say Kerry were the teams that had all the resources. They really looked after their players – jobs, Kerry Group supporting them and all that type of thing.
"But Dublin have just, you know, it was like Abramovich going into the Premier League. It's a different ball game.
"The level that they have taken sports science to. Nutrition, conditioning, the amount of coaches they have; it's a professional set up in every aspect. And they're getting the benefit of that now."
Breakthrough
McGuinness was talking at the press event ahead of the semi-final, and a handful of the Donegal minors who will play in the curtain-raiser against Dublin were standing at the back of the room with their manager Declan Bonner.
As McGuinness warmed to his theme, he touched on the importance of success in bringing along younger players.
"Dublin won their All-Ireland in 2011 after a long break," he said. "And their young lads were maybe like some of our young lads ' down the back here – our minors, seeing a breakthrough at 14 years of age.
I think the divide is becoming bigger and bigger. I think Dublin are way out in front of any other team.
Jim McGuinness
"Declan has taken our minors through now to a semi-final with us. I would imagine that a torch was lit under some of them after we made the breakthrough in 2011. And you've got Dublin now winning the All-Ireland last year. And every kid in the city wants to be the next Bernard Brogan.
"So there's huge momentum. Kerry have done that for years as well. But there's huge momentum, resources, training facilities. It's going to be very difficult. It's going to be very difficult to penetrate that, moving forward, I would suggest."
Criticise
McGuinness was keen to point out that, by his way of thinking, raising standards is in everyone's interests.
"I'm not going to sit up here and criticise that, because what we've tried to do over the last four years is raise our levels. And that has been difficult sometimes. And it has been easier other times.
"But if you want to compete with teams like that, that's what you need to do. You need to be able to have structures in place that give young players that are developing the best possible chance of developing the right way. Making it through to the senior team and ultimately be successful."
Two weeks out from their third All-Ireland semi-final in four years, Donegal's squad is in good shape, health-wise. Karl Lacey was a worry directly after the win over Armagh but looks set to be okay to play and Neil McGee should also be present and correct.
"(Lacey) damaged his hamstring in the match against Armagh. He's made a very good recovery. He trained on Monday morning with the medical team and he'll be back fully training with us on Tuesday night. So no problems with Karl, thank God.
"The strength is back up to 95/100 per cent now and he's done a good physical session with the boys. He will be fully integrated on Tuesday night so no problem. Neil McGee strained his hamstring but he trained during the week."