GAA: John Evans fells Mayo will have the edge over Kerry in Sunday's All-Ireland semi-final
Last Updated: 21/08/14 4:26pm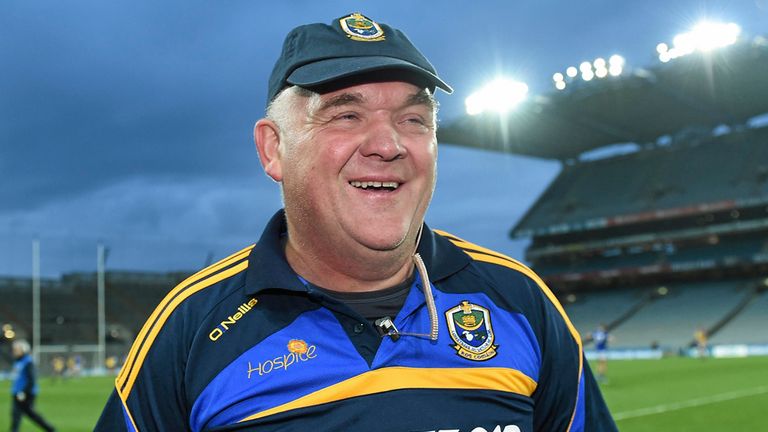 John Evans believes Mayo will defeat his native Kerry in Sunday's All-Ireland semi-final.
For Evans, that's not a sign of any weakness as a Kerryman: it's the strength he sees in a Mayo team with which he is immediately more familiar.
Evans' Roscommon team were three points up against Mayo during their Connacht Championship semi-final in June, only to lose by a point after a late flurry of scores from James Horan's side.
ALL-IRELAND SFC
SEMI-FINAL
Mayo v Kerry
Sunday, 3.30pm
Live on Sky Sports 3
"That's one of the differences I saw in Mayo this summer, after they beat us in the Connacht semi-final," he said, "and that was the absolute delight and joy in the faces of their players, when they got over the line, in Dr Hyde Park.
"It might have been the getting out of jail, but when you see players celebrating like that, you know their heads are in the right place.
"The only other time we've really seen it this summer was with Donegal, and when Jim McGuinness won Ulster back. That to me is an indication of their energy, and motivation, and that's important."
Yet seeing his Roscommon team pushing Mayo every inch of the way in that Connacht semi-final also revealed some weaknesses in the Connacht champions and back-to-back beaten All-Ireland finalists.
Strength
"Mayo's strength would be around the middle eight, really, as in half-backs, midfield, and half-forward," says Evans, who this week also agreed an extension to his term as Roscommon manager, which will see him through until at least the end of 2015.
"They have a lot of physicality in there, a lot of ball-winning attributes, and also improved their mobility. Kerry do have good workers in that area too, in Donncha Walsh, Declan O'Sullivan, and Anthony Maher. Although Kerry should have the physicality too.
"So I think Mayo have to be very, very wary of this Kerry full-forward line. And that might mean taking something from that middle eight, to provide some cover for their own full-back line. At the same time, their driving half-back line can't afford to cut forward as much."
Goals could what be it's all about at this stage, and really Mayo haven't been producing enough of those this summer.
John Evans
Evans also feels Mayo might struggle to find the goals that may ultimately prove the difference between winning and losing in Croke Park on Sunday. Kerry, he feels, retain a more natural goal-scoring tendency.
"I haven't yet seen anything truly cutting edge in the Mayo full-forward line either," he said. "Goals could be what it's all about at this stage, and really Mayo haven't been producing enough of those this summer.
"Andy Moran has slowed down a bit, and Cillian O'Connor is the ball-winning forward now, and wouldn't be blessed with too much pace either. And in the wide open spaces of Croke Park, Mayo can struggle to find the scores in the inside line.
"I also feel things will have to go right for Mayo. But one big thing that hasn't really been highlighted here is that Mayo's experience is really starting to stand up to them now, especially in Croke Park. Kerry being Kerry will wipe some of that out, but all that experience of playing in Croke Park will have to stand to Mayo.
"Overall there is also something hell-bent, heaven-bound, whatever way you want to put it, about this Mayo team. They've been through so much hardship that they feel they're still on that journey, and that might also give them the edge they need over Kerry."
Credit
What Kerry definitely have in their favour is a player like James O'Donoghue, although Evans highlights his role in the Kerry team more cautiously. As good as O'Donoghue has been all summer, he can't be expected to deliver on every given day.
"In fairness to Kerry, great credit has to go to Eamonn Fitzmaurice," he said. "He's brought in a lot of younger players, but also reinvigorated a lot of the older ones, some of whom were cast aside really.
"And Eamonn's been playing a great managerial role, but we'll see now whether his young forwards can really deliver without the charismatic Colm 'Gooch' Cooper.
"One man won't win a game. Bernard Brogan never won a game for Dublin on his own, when it came to All-Ireland semi-finals and finals, and Kerry can't be reliant on one prolific forward either. If things don't go right for James, I'd worry for Kerry."
Watch Mayo v Kerry live on Sky Sports 3 on Sunday from 3pm