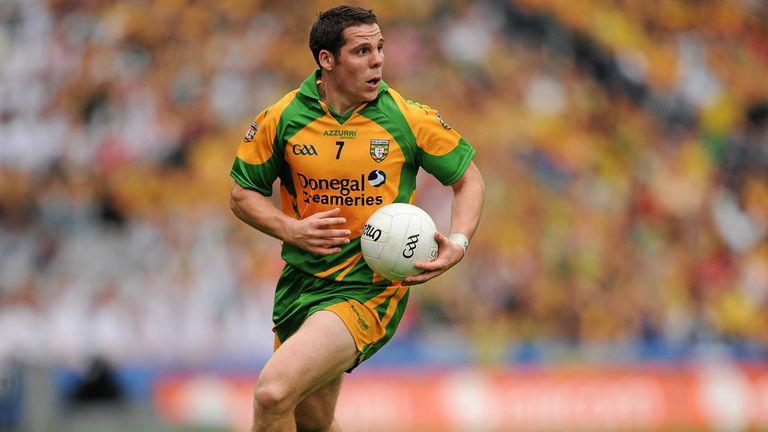 Former Donegal defender Kevin Cassidy says Jim McGuinness was silly in comparing Dublin's resources to Roman Abramovich putting money into Chelsea.
ALL-IRELAND SFC
SEMI-FINAL
Dublin v Donegal
Sunday, 3.30pm
Live on Sky Sports 2
Cassidy was in Croke Park on Monday to promote this weekend's Penn State versus UCF American football match, but there were no questions on that topic.
Instead, Cassidy was asked about McGuinness' comments about Dublin.
"To be honest I think it was a silly comment," said Cassidy, who was dropped from the Donegal panel by McGuinness in 2011 for his contribution to a book of Ulster GAA stories, entitled 'This Is Our Year'.
"He has given out to Mark McHugh and Eamon McGee in the past for making silly comments.
"I don't know if it is pressure or if Jim is trying to direct stuff away or whatever, but Dublin didn't need any more ammunition because there is enough there already.
"I know some things can be taken out of context, and maybe that's what happened, but there is no need for it. Dublin deserve credit they don't deserve it to be said (they're successful) because of money."
Cassidy went on to note Donegal's warm-weather training camp in Portugal and the recent five days at Johnstown House in Enfield to hone their game plan for Sunday's All-Ireland semi-final.
"To be honest there is a lot of money in our county as well. Maybe for Jim to say that wasn't right, but I'm sure he realises that now."
Weaker
The presumption is that Donegal will adopt a similar ultra-defensive approach to what was used against Dublin in the 2011 All-Ireland semi-final. Cassidy agrees but feels the loss of McHugh and Ryan Bradley (who emigrated due to unemployment) has made Donegal a weaker proposition.
"Yeah, it's definitely an All-Ireland that we let slip," he said. "Had we got past Dublin, we would have beaten Kerry because they wouldn't have been able to handle the way we set up that year.
I don't know if it is pressure or if Jim is trying to direct stuff away or whatever, but Dublin didn't need any more ammunition because there is enough there already.
Kevin Cassidy
"We were naive in thinking we had Dublin where we wanted. Colm (McFadden) was through on goal and had he been just a wee bit lower and it hit the net the game was over.
"We invited Dublin on and (Stephen) Cluxton got a few frees and what have you and Dublin gained momentum and just broke us down. I think at that time, after Diarmuid Connolly's sending off, had we pushed Michael (Murphy) further up the field we would have got a score or two and it would have been too much.
"We're asking the question are Donegal where they were in 2011? I don't think they are because Ryan and Mark are two massive engines that came out of that system and it's very hard to replace them.
"My own club-mate is in there (Odhran MacNiallais) and he's having a fantastic season but he's a different type of player to Ryan Bradley or Mark McHugh."
Moved
To beat Dublin, Cassidy feels that Murphy must be moved close to Dublin's goal in the second half.
"They'll have to. Definitely not for the first half an hour or so anyway because if Donegal start with Michael Murphy up front it will weaken our midfield sector."
Who will win?
"It's tough to see outside Dublin, to be honest. I think Donegal have a chance but I'm not going to sit here and say Donegal have better players than Dublin because they don't. But every team is due an off day.
"I alluded to Mark earlier on: I think it's only now that we will see Mark's loss. I think we saw it a wee bit against Armagh. Legs wise, Ryan (McHugh) is a fantastic player but he's not as mature as Mark yet.
"Donegal have a chance."
Watch Dublin v Donegal live on Sky Sports 2 on Sunday from 3pm