GAA: Donegal record stunning six-point victory over Dublin in All-Ireland SFC semi-final
Last Updated: 01/09/14 12:30pm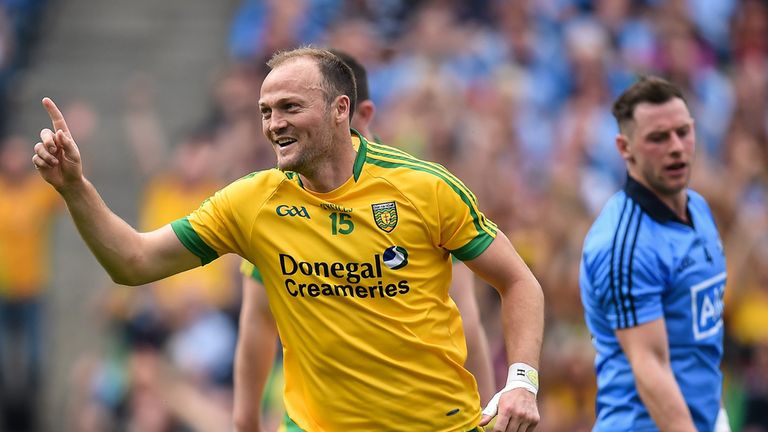 Donegal are through to the All-Ireland final after a stunning 3-14 to 0-17 victory over Dublin at Croke Park.
The Tir Chonaill County took out the defending champions with a fearlessly unsentimental football performance, hitting their opponents with three explosive goals either side of half-time.
In the end Donegal manager Jim McGuinness celebrated the victory as if his team had just won the All-Ireland back – although that quest will come soon enough. Kerry now await them in the All-Ireland final on September 21.
Unlike their semi-final meeting in 2011, Donegal beat Dublin on the scoreboard, their six-point victory margin in no way flattering their complete dominance, especially as the game progressed.
It did start out looking as if Dublin might roll over them, but instead Jim Gavin's side looked truly flattened by the finish.
Donegal's first two goals were deftly struck by Ryan McHugh. Not long after the wing-forward's second, Colm McFadden added Donegal's third on 46 minutes, and even at that stage it seemed unlikely Dublin would find a way back.
Hill 16 was left eerily silent for practically the entire second half as the Dublin fans witnessed a near total meltdown in their side's full-back line, while their audacious attacking tactics was also fully exposed as a weakness.
It was Michael Murphy and McFadden who combined to set up McHugh's first when he rattled the Dublin net just before half-time to put All-Ireland champions behind at the turnaround. Jim Gavin's side had been five points clear in the first half.
Searing
Then, not long into the second half, Anthony Thompson made a searing run down the right wing and found McHugh in open space, who palmed the ball past Stephen Cluxton.
Dublin didn't panic and two points from the Brogan brothers helped calm some nerves, although not for long.
A searing run and point from Frank McGlynn ensured Donegal weren't letting up, and that was soon followed by their third goal. Midfielders Neil Gallagher and Odhran MacNiallias combined to set up McFadden, who picked his spot away from Cluxton and with that Donegal were up 3-10 to 0-12.
Whenever Dublin pressed forward, Donegal packed 13 men in front of them, forcing them to shoot from long or wide angles, with naturally mixed results. At one stage Bernard Brogan missed a relatively simple free, typifying Dublin's glaring lack of accuracy.
All this came against a backdrop of Dublin settling so much faster and although Murphy converted a Donegal free in the first minute, Dublin hit back promptly with four points without a reply, including two bold points from distance by Paul Flynn.
Dublin were cutting through them like a knife through butter, with Diarmuid Connolly and Bernard Brogan striking thundering points. They had their first shot on goal too, Brogan denied by Paul Durcan.
It was 13 minutes before Donegal found their next score, after finally finding Karl Lacey in a patch of open space. Still, they couldn't halt Dublin's tidal wave of scores – Flynn, Connolly and then defender Philly McMahon popping over three more in quick succession.
Looking increasingly anxious, another free from Murphy settled Donegal a little although again Connolly fired over his third point from play to put Dublin five points clear, 0-9 to 0-4.
Momentum
Then, with half-time fast approaching, the game and momentum swing totally and irreversibly in Donegal's favour as points from McHugh, MacNiallais and then Murphy tested Dublin's nerves, before Donegal hit them where it really hurts.
Rory Kavanagh fired in the high ball towards Murphy, and after a deft flick down towards McFadden, he then flung the ball out to McHugh – who struck soft and sweetly into the Dublin net.
When McFadden followed that with his first free, Donegal were suddenly up by two, 1-8 to 0-9. Dublin got one back before the break, but still trailed by one at the turnaround.
Both teams made had late changes too, Dublin starting Jack McCaffrey and Cormac Costello instead of Nicky Devereux and Kevin McManamon, Donegal opting for David Walsh and Rory Kavanagh over Christy Toye and Paddy McBrearty.
In the end, no amount of changes could save Dublin, and even though Gavin emptied his bench – and Paddy Andrews did add to points from play – Donegal were soon home and dry, planning for their All-Ireland date with Kerry.
Scorers
Donegal: R McHugh 2-2, C McFadden 1-3 (2f), M Murphy 0-3 (2f), P McBrearty 0-2, K Lacey, O MacNiallais, R Kavanagh, F McGlynn 0-1 each.
Dublin: D Connolly 0-5 (1f), P Flynn 0-4, B Brogan 0-3 (1f), A Brogan, P Andrews 0-2 each, P McMahon 0-1.