GAA: Neil McGee says Donegal were surprised to be rank outsiders against Dublin
Last Updated: 02/09/14 5:57pm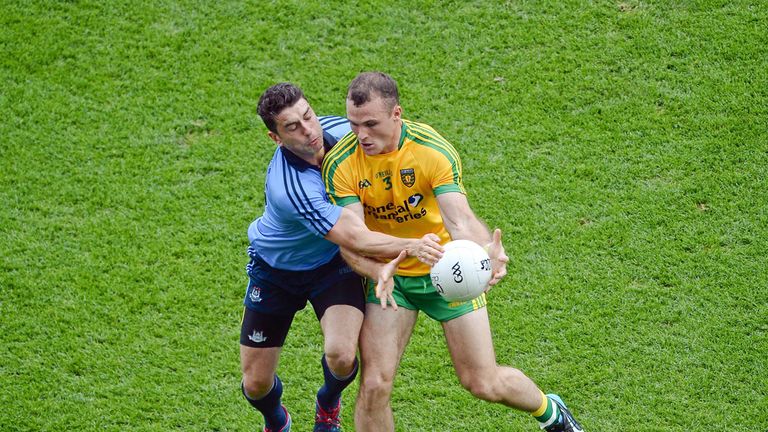 Neil McGee admits Donegal were a little surprised to be regarded as such cold outsiders against Dublin.
The Ulster champions were available at 7/1 to beat the Dubs yet they ran out impressive winners, with McGee excelling in his man-marking job on Bernard Brogan.
"It was an All-Ireland semi-final, Ulster champions and Leinster champions – they were kind of big odds," shrugged McGee.
"But in fairness the way the Dubs were going it was understandable the way the odds were. The bookies had probably been cleaned out with them all year.
"We didn't look at that. We concentrated on our own game. We went down by five points in the first half and just kept at it, just kept plugging away.
"We watched a lot of videos of Dublin these last few weeks. We went away to a training camp for four, five days and Jim more or less broke down their game plan and we exploited it. We knew we would get the openings and it was a matter of pushing the bodies forward and supporting.
"The last time we played Dublin (2011), we didn't get the bodies forward but we knew if we pushed six or seven bodies forward we would get the openings with the runners and it worked well."
Majestic
The last line was typical Gweedore understatement. What unfolded was a majestic display. But the remarkable thing was just how quickly and genuinely both the Donegal management and players seemed to move their attention to the prospect of playing Kerry in an All-Ireland final.
"They have a tricky boy in there," he said when asked about potential assignments for that game. "I'm sure it's going to be James O'Donoghue. He's racking up big scores so I have to do a lot of homework on him now. It's about restricting him more than anything so I need to up my game."
We watched a lot of videos of Dublin these last few weeks. We went away to a training camp for four, five days and Jim more or less broke down their game plan and we exploited it.
Neil McGee
In the build-up to the 2012 final, Jim McGuinness said that his squad had the best three weeks of their lives ahead of them in that they were getting to train for a September championship match. Now they are back in that place.
"They were enjoyable," said McGee. "But I remember the morning of the All-Ireland and he had us in the perfect frame of mind. Whatever Jim does, it goes unannounced when he's doing it.
"We were just totally confident the morning of the game. We slept well, there were no nerves at all. It was just a normal game. Whatever way he does it, he'll have us right mentally. Like today, we were away for five days last week and we got a serious amount of work done."
One of the lazier stereotypes about the Donegal defensive game – generally labelled 'the system' – is that it somehow does the work on its own. But McGee had plenty of moments in the spotlight with Brogan on Sunday and took his turn roaming forward like the other Donegal back six.
Enjoying
"I'm really enjoying the battles," he said. "Every day you're coming up against their best full-forward.
ALL-IRELAND SFC FINAL
Kerry v Donegal
Sunday, September 21
Live on Sky Sports
"A lot of people say you don't get the one-on-one but every day it's one-on-one the way we're playing this year. Thankfully, we're holding our own. We're really enjoying it."
Even when Donegal wrested control of the semi-final, he was impressed by Dublin's resolve in coming forward.
"They were still getting their scores. Paul Flynn and (Diarmuid) Connolly scored three or four each. That's impressive shooting. They got long-range scores and it's hard to shut down those long range scores. They are two of the best players in the country. It's understandable: it's all about restricting them."
Kerry versus Donegal, the Western Seaboard final, was a match-up few saw coming last September. McGee recalled the miserable conclusion to Donegal's All-Ireland defence last August and how far they have moved on from that low point.
"We broke down how many training sessions we did and we didn't do half of what we have done this year. You can see it there; a freshness. You add in players like Ryan McHugh, Odhran MacNiallais, Darach O'Connor and these boys are really pushing it on. Big Neil (Gallagher) has an injury-free run and he's going well."