GAA: Kerry manager Eamonn Fitzmaurice expects physical contest against Mayo
Last Updated: 21/08/14 12:05pm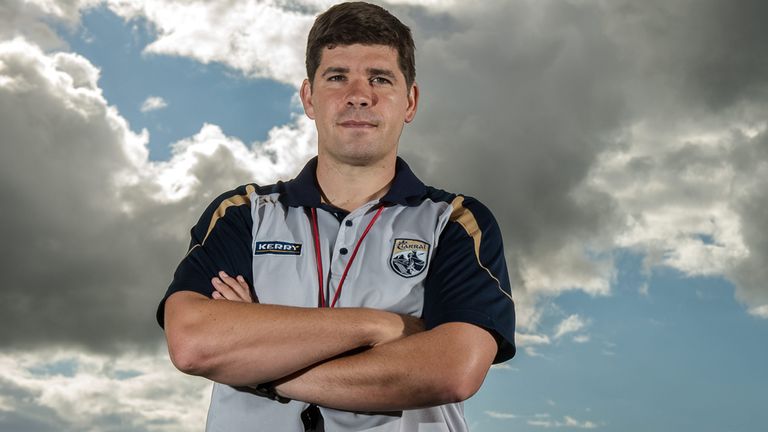 Kerry manager Eamonn Fitzmaurice admitted that the departure of experienced players during the winter left him with a leadership hole that took a while to fill.
Key names such as Paul Galvin, Tomás Ó Sé and Eoin Brosnan all retired from inter-county football, while Colm Cooper suffered a season-ending injury, leaving Fitzmaurice to depend on players whose futures were ahead of them rather than behind.
"Definitely when leaders move on there can be a bit of a vacuum there," said Fitzmaurice, whose Kerry side face Mayo in Sunday's All-Ireland semi-final.
Some of the lads have learned the hard way that if you don't back yourself when you get a chance you can be a long time waiting for another.
Eamonn Fitzmaurice
"The lads have stepped up. Declan O'Sullivan is a big leader and it has forced others like Donnchadh Walsh, who has established himself as a big leader. Marc Ó Sé is a big leader.
"The younger lads like Fionn Fitzgerald and Johnny Buckley, James O'Donoghue and Paul Geaney; all these lads are flourishing now because there are new big leaders and personalities in the dressing room. Fellas tend to keep their counsel but if there is a vacuum there they tend to fill it.
"While it is a young team, a lot of them are good ages. A lot of them are 23, 24, 25 – it's not as if they are 19- or 20-year-olds. They are a good age.
"They've had experience where they have been given try-outs before and it hasn't quite worked out for them. I think they know this time for a lot of them it's a time to really go and grab it."
Expectancy
Mayo are slight favourites for Sunday's Croke Park contest but Fitzmaurice insists there is precious little leeway afforded to them on their home patch.
"There is still the same expectancy in Kerry, I can tell you," he said. "I don't think it is that much of a factor.
ALL-IRELAND SFC
SEMI-FINAL
Kerry v Mayo
Sunday, 3.30pm
Live on Sky Sports 3
"I think the lads are fairly good at being clued into what's going on in the group and what we're trying to do in the group and that's all that matters really.
"Maybe every game we're playing, we're fancied to be beaten so there might be a liberating thing in that. But it's not something we use, not something we talk about.
"I suppose there isn't any huge pressure on us externally. There's a good atmosphere in the group. They know they're capable of winning things; they won a Munster Championship this year already and for some of them it's their second in a row. It's trying to put something with that now that's the next step.
"Some of the lads have learned the hard way that if you don't back yourself when you get a chance you can be a long time waiting for another."
Physical
Mayo stand in Kerry's way, a team that Fitzmaurice never lost to as a player or selector. He's under no illusions though that the challenge offered by the current incarnation of Mayo is of a different colour to what Kerry teams met in the past.
"They are way more physical," says Fitzmaurice. "That has been the hallmark of James Horan since he came in.
"In terms of their conditioning, they are probably the premier team in the country. Dublin are obviously at a serious level as well. Mayo took it there first and other teams had to react; we certainly had to in Kerry.
"There is a ferocious togetherness in the group, there is a massive spirit there and there is a lot of character there.
"They showed a lot of character against Roscommon and that was a game where they could have easily folded up the tent, gone home and been beaten. But they showed a lot of character to come back and win that game.
"They have a lot of the hallmark of champions about them. They have been very, very close the last couple of years. They were only beaten by a point last year and by four in 2012.
"In neither game did they get any breaks that you need to win an All-Ireland – particularly a tight All-Ireland final – so they are a serious, serious group. They have an edge about them and if we are going to beat them we will have to be at our best. It is as simple as that."
Watch Mayo v Kerry live on Sky Sports 3 on Sunday from 3pm