Ryder Cup 2014: Bernard Gallacher talks to Sky Sports about Ryder Cup at Gleneagles
By Dave Tindall
Last Updated: 08/08/14 12:11am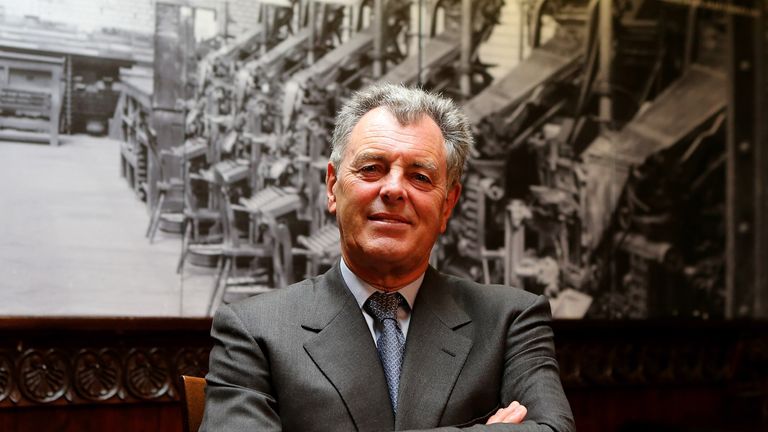 Bernard Gallacher skippered Europe three times in the Ryder Cup and at The Belfry in 1993 he locked horns with this year's US captain, Tom Watson.
Back at the scene of that match - edged 15-13 by the Americans - the Scot sat down to speak with Sky Sports about his rival captain and also to look ahead to this year's match at Gleneagles.
Brilliant Moments
Vote for your favourite moment of The Ryder Cup for the chance to win an amazing trip to Gleneagles with three friends, to experience some brilliant moments of your own!
CLICK HERE TO ENTER
Sky Sports: You're here back at The Belfry and obviously have lots of memories from 1993. Tom Watson was your rival captain that year so how well did you get on with him?
BG: I got on with him well as a person. He's a nice, straightforward captain. He's a straightforward person, Tom Watson, to be honest. He's clever, there are no throwaway lines with Tom. If you ask him something it's a measured response. There's a cold side to him too in as much as you know you're with somebody who desperately wants to win – his record proves that. There's a toughness about him.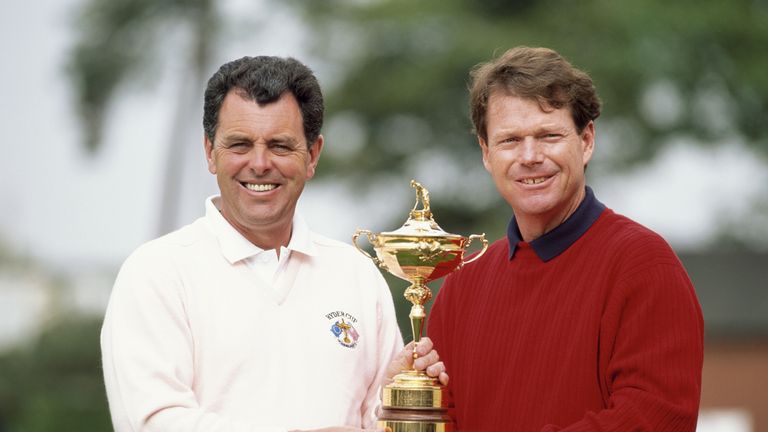 Sky Sports: How do you think Paul McGinley will get on with him?
BG: I think they've already established a relationship and I think they get on quite well. I don't think so much it'll be a sparring contest as Tom will do his thing with his team and Tom will do his thing with his team and they'll really just meet at the Opening Ceremony and a few social things and apart from that they'll only bump into each other. They won't be trying to meet.
Sky Sports: Do you think it was a good choice by the Americans?
BG: I think it was an inspired choice. Being in Scotland – he won his Opens in Scotland – means he's loved there but also, from the Ryder Cup's point of view, after suffering another defeat at Medinah there was no possibility of the Americans ever losing interest in the Ryder Cup with Tom Watson as the captain. Also, as it's turned out, the US team is going to contain lots of youngsters and newcomers, people who haven't been around much and his experience will really help people like Jordan Spieth, Patrick Reed, Jimmy Walker and goodness knows who else is going to come along. And dealing with Tiger Woods if he makes the team, which is questionable, you would feel that Tom has as good a chance as anybody of getting the best out of Tiger Woods.
Sky Sports: Do you think Tom Watson has changed at all since 1993 or is he the same guy?
BG: No, he's the same guy. He just gets on with things. He's all business. He's thorough in his preparation – he's already been to Gleneagles and had a good look at the golf course to tell his team what to expect there although it's a fairly straightforward inland golf course. It's not like trying to navigate your way around a seaside course which would be more difficult but I think he's been a wonderful choice.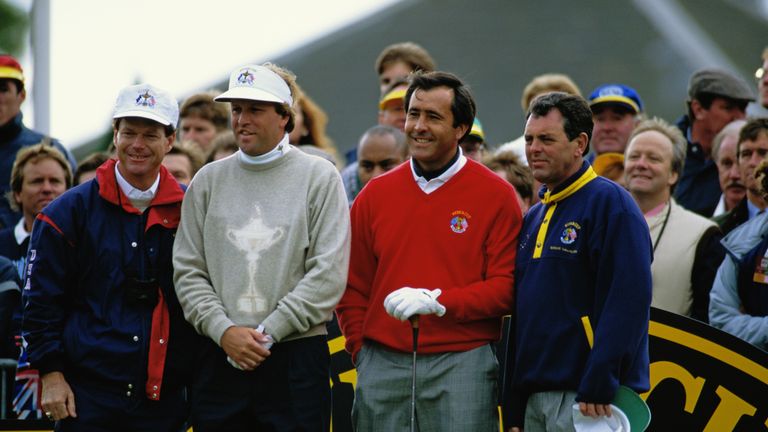 Sky Sports: What are the changes you've noticed to The Belfry since 1993?
BG: The changes to the golf course are that it's maturing, it's growing up. You can see the trees. We're sitting here in the Ryder Cup room overlooking the first tee. Back then you could look right out and see the whole golf course, every hole. Now you can't because of all the bushy trees. It's matured and developed into a fine test of golf. And the hotel goes with it nicely. The hotel needed to be freshened up and refurbished and they've spent a fortune on it so the hotel goes with the golf course and the golf course goes with the hotel. They've got great practice facilities out there along with the Golf Academy so it's got everything you want.
Sky Sports: So could it host another Ryder Cup?
BG: Well, it certainly could but it's going to be a while as we're in France next time (2018) and then America after that. I think the intention is to bring it around a few European countries who want to have it. It will help with the development of the sport in those countries but I think The Belfry is all set for a big tournament. It doesn't particularly need to be the Ryder Cup, it can be another big event because this is the perfect venue and attracts crowds by the thousands and looks great on television. It could be a big, new sponsored event.
Sky Sports: There's a real lack of tournaments in England with only The BMW PGA Championship at Wentworth the only fixed event on the schedule although we had The Open at Hoylake this year too.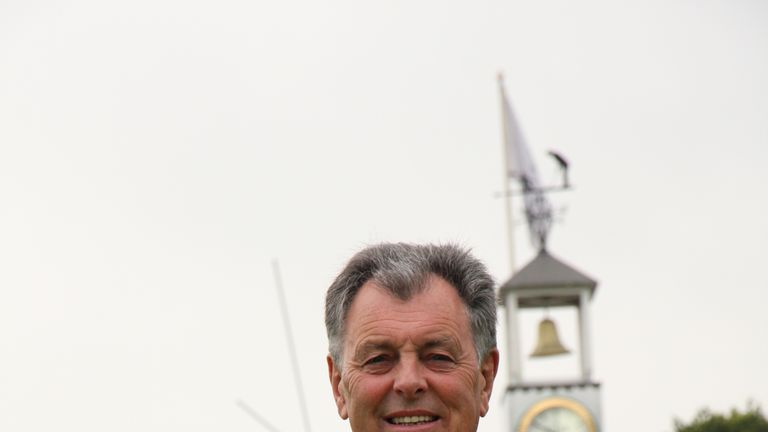 BG: Well, there is in England, but we musn't really look now in those terms. The European Tour isn't just looking at England on its own. If you take into account the whole of Great Britain and Ireland we've got the PGA at Wentworth, the flagship event, then we've got an Irish Open, we've got a Welsh Open, we've got a Scottish Open, we've got the British Open, we've got the Johnnie Walker in Scotland and the Alfred Dunhill. In terms of the British Isles we've got a lot of tournaments. Spain used to have seven but that's been cut back. So people say there's only one tournament in England but you've got to look bigger than England. And, of course, it's not just a European Tour, it's more a world tour as we've got events in China, Singapore, in the winter it goes to South Africa, so you've got to look further than England. The future for the European Tour is to do partnership deals with the South African Tour and the Asian Tour because due to the weather in Europe we can't play from November right through to March. And even in March Spain's not playable to be honest.
Sky Sports: Back to the Ryder Cup and it's only the second time the event has been held in Scotland. The first you'll remember well as you played in the 1973 match at Muirfield. As a Scotsman did that inspire you or make you more nervous?
BG: It helped calm the nerves being at home. I remember we got off to a very good start. We were leading that event but I got food poisoning and didn't play for two matches.
Sky Sports: Did you ever find out what caused it?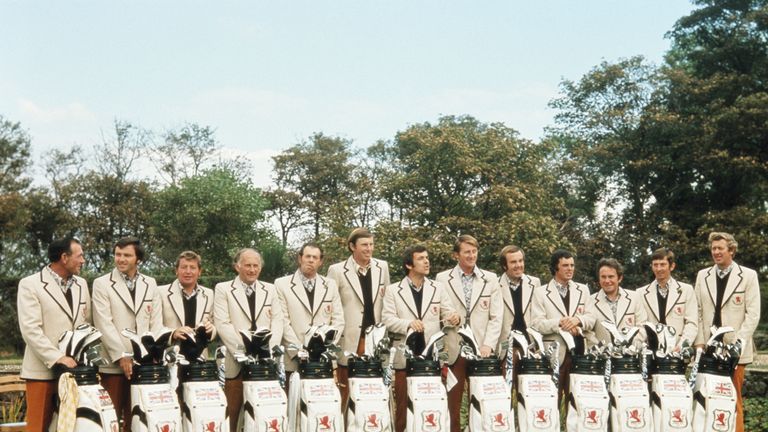 BG: Yes, I knew exactly what caused it. It was scampi. I was the only one that got it. I stayed up most of the night in pain and couldn't play and it seemed to upset the team's momentum. Suddenly they had to change around a few of the pairings. Brian Barnes and I had won both of our opening matches but then I'd dropped out and Peter Butler came in and some other players had to change because of that and it just upset the tactics in a way which was a shame.
Sky Sports: This time, of course, the one Scotsman who could make it is your nephew Stephen Gallacher.
BG: Yes, Stephen has still got a bit to go but he's in position to make the team if he plays well from now on. He's playing in all the majors which is key. He's in the world's top 50 so he just needs to keep calm and he's got a good chance. At Augusta, he had three good rounds but just had one difficult day. That third round was a tough day for everyone and he said he just couldn't get the ball in the hole that day but he came back the next day and did well. It's not so easy to recover at Augusta as you can lose your confidence but he came out the last day, started well and shot one of the best scores.
Sky Sports: You played in a Masters and missed the cut by a shot. Did you know what the mark was and did you have a putt to make the weekend?
BG: I had a putt for a birdie but it hung over the lip. One of the rules guys rushed out and didn't allow me to wait to see if it would drop. And then I got invited again but I turned it down because I hadn't played since September as the European Tour finished at the end of the summer or autumn. It was a bit like that in those days. I thought there was no point going to Augusta if I thought I couldn't win it. In those days, The Masters was really like an invitational event for Americans. There was no way you could qualify for it. I was invited to it just because I'd won the Order of Merit and then the next time I got invited was because I was third in the Order of Merit but there was nothing cast in stone about an invitation unless you were an American. Now it's much easier, you know how you're going to get in. Even though it's a small field, you know that if you're in the top 50 in the world rankings you're in.
Sky Sports: It's great to see you looking so well after your health scare. How is the Defibrillator Campaign? (Bernard suffered a cardiac arrest last August and it was only thanks to the availability of an automated external defibrillator (AED) following his collapse during a dinner reception in Aberdeen, along with early-response CPR treatment at the venue, that he was able to regain consciousness and take steps towards a full recovery).
BG: It's going well. It's got a lot of people talking about it and it saved my life. The main driving force is my wife. She, more than anyone, knows how lucky I was because she was around at the time when I was in a coma at the hospital. She knows that if the hotel had not had a defibrillator I would not be here today so she decided that we need to do something. So she thought let's try and at least get it into golf clubs so the campaign is going to be a short campaign, like a year, and it's really aimed around golf clubs. It's been very successful but we're still working on the campaign but they're out there more and more. People are talking about it, they realise the significance of it and it will save lives.
Sky Sports: And we believe you did more campaign work at Wentworth this year?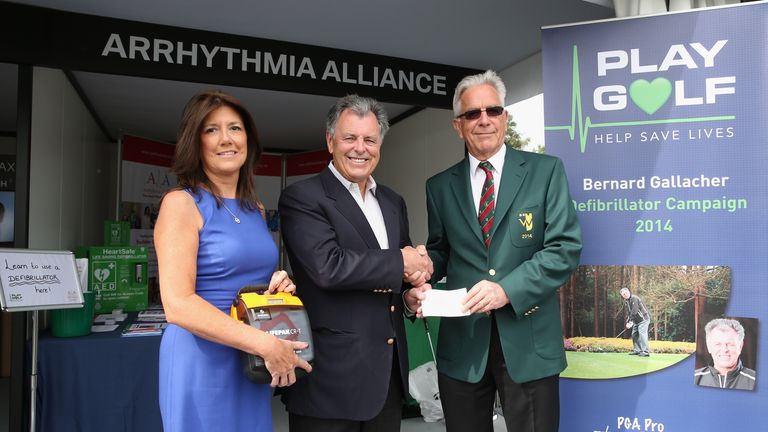 BG: The funny thing was, from my hospital when I was recovering, I phoned them and asked if they had one because, if they hadn't, I was going to buy them one. But they said they had four. But, even though I'm a member there, I didn't know we had four. So that's another part of the campaign, it's an awareness that places have got them. There's just a slight amount of training needed when you put a defibrillator into a club, you just need to teach the people on duty how to use it but it only takes three or four minutes to know how to use it. I think we're happy with our efforts so far.