Joburg betting guide
Dave Tindall's in-depth preview and best bets for this week's European Tour event - the Joburg Open.
By Dave Tindall
Last Updated: 05/02/13 8:04pm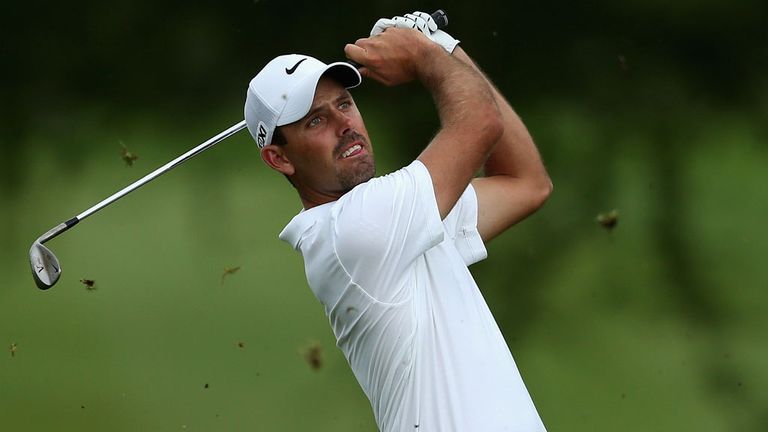 It's a sign of the financial times that South Africa stages six events on the European Tour this year while Spain has just one.
This week's Joburg Open is the fourth of those and is the start of a two-week run which also takes in next week's Africa Open.
Playing host is the Royal Johannesburg & Kensington Golf Club where two courses are in operation this week.
The harder East course is used on the weekend but for the first two days it alternates with the West.
This is the seventh time the tournament has been co-sanctioned by the European Tour and there are some very familiar names on the trophy with Charl Schwartzel a two-time winner, Richard Sterne winning in 2008 and Branden Grace capturing the title last year.
The tournament also has the largest field of the season, with a whopping 210 players teeing off on Thursday.
As usual, Sky Sports have live coverage of all four days.
The courses
The East course is a lengthy 7,592-yard par 72 and can prove a tough test although the rough isn't too thick this year. The players get just one crack at the easier West and need to cash in there. It's of decent length at 7,237 yards and par is 71 but there are lots of birdie opportunities
The weather
Technically, it's rainy season in Johannesburg but for now the only showers have been in the afternoon and it's been decent weather in the build-up. You'll see rain clouds on all four tournament days but sun mixed in there too so the prediction is for dry mornings and wet afternoons. Temperatures are pushing 25 degrees on Thursday and Friday but are set to drop to nearer 20 on the weekend.
Last year - Branden Grace
Branden Grace captured his first European Tour title after pipping England's Jamie Elson by a shot and it sparked an amazing four-win season for the South African. Grace shot 67-66-65-72 to take victory while Elson jumped from 29th to second after a fast-finishing 63. George Coetzee and Richard Finch were the halfway leaders but fell away.
The leading contenders (and Sky Bet odds)
Charl Schwartzel (11/4): The 2011 Masters winner ended 2012 in ridiculously hot form, winning the Thailand Golf Championship on the Asian Tour by 11 shots and, incredibly, bettering that the following week with a 12-shot romp in the European Tour co-sanctioned Alfred Dunhill Championship in his native South Africa. Add in the fact that he won this tournament in both 2010 and 2011 and it's no wonder he's a very short-priced favourite.
2013 form: n/a
Course form: MC-1-1-4
South Africa form: 1-5-5-MC
World ranking: 18
Branden Grace (8/1): Victory here last year proved the catalyst for Grace, who used it as a launchpad for an incredible 2012. Three more victories followed and, in some eyes, he was the European Tour's player of the year. It's often hard to follow a breakout season like that but this year the South African has finished seventh in the Volvo Champions, fifth in Abu Dhabi and sixth in Qatar. In other words, he's still hot and shows no sign of going away.
2013 form: 6-5-7
Course form: 1-13-51-MC
South Africa form: 7-12-39-65
World ranking: 29
George Coetzee (8/1): There's a feeling that if the hugely talented Coetzee could get his first win, he could follow in Grace's footsteps and go on a bit of a spree. The knocks on the door continue to ring loud and this year he's finished ninth in Abu Dhabi and runner-up in Qatar on his last start. In this event he was seventh in 2011 and 14th last year after leading at halfway and sitting second with a round to go.
2013 form: 2-9
Course form: 14-7-MC-MC
South Africa form: 10-39-2-12
World ranking: 42
Richard Sterne (14/1): But for injury, Sterne could easily be another young South African major winner as he was going toe-to-toe with Schwartzel and Oosthuizen before being sidelined. But he now looks to be on the up again and was unlucky to finish second to an inspired Stephen Gallacher in last week's Dubai Desert Classic. Sterne, who opened with a 62 in Dubai, won this event in 2008 so he has plenty going for him in this weak field.
2013 form: 2
Course form: MC-60-44-12
South Africa form: 1-5-5-MC
World ranking: 94
Best of the rest
Thomas Aiken (28/1): Aiken is a European Tour winner having landed the Open de Espana in 2011 while he also has seven South African Sunshine Tour successes under his belt. Also seventh in last year's Open at Lytham, Aiken was a decent tied 22nd in Qatar last time out and finished third in greens in regulation for the week. As for course form, he opened 64-66 here in 2011 before going on to finish third.
2013 form: 22-MC
Course form: 24-3-MC-12
South Africa form: 55-MC-3-2
World ranking: 128
Garth Mulroy (28/1): The 34-year-old is battle-hardened from several years in America, mainly on the Web.com Tour, but particuarly enjoys this event when he returns home. In 2008 he shot 67-72-66-66 to finish second and in 2011 he was runner-up again after rounds of 65-64-69-71. Also third in the South African Open before Christmas, a hot putter helped him finish 15th in Dubai last week.
2013 form: 15-40-48
Course form: MC-2-MC-2
South Africa form: 3-21-50-29
World ranking: 145
Steve Webster (28/1): The Englishman is the joint shortest-priced overseas raider in the field this week and it's not hard to see why. He was second and seventh in the two European Tour events played in South Africa pre-Christmas and has kept his hot form with a fourth in Qatar and seventh in Dubai. He's making his debut in this tournament but at his best he can give the top home players something to think about.
2013 form: 7-4-32
Course form: n/a
South Africa form: 7-2
World ranking: 136
Conclusion
It's easy to dodge George Coetzee given his nearly-man status but this really is a golden chance for him to open his account on the European Tour.
There's no Louis Oosthuizen to beat while it may just be worth banking on Charl Schwartzel having a little bit of tournament rust given that this is his first start of 2013.
Coetzee is from nearby Pretoria and won the 2011 Telkom PGA Championship in Johannesburg so he's very much in his comfort zone this week.
After being pipped by Chris Woods' eagle at 18 in Qatar last time, Coetzee is getting ever closer and he told the Sunshine Tour website this week: "I just want to keep playing well. I've been working on a few things and have been improving week after week. It just kind of hasn't been my week yet. But it's always nice to play in an event at home, and it would be awesome to win in front of my friends and family."
Soon he'll be off to the WGC-Accenture Match Play Championship and after that the WGC-Cadillac Championship at Doral and The Masters at Augusta National so he's in a different league to 99% of this field.
It's almost guaranteed that Coetzee will be prominent so take that 8/1 and keep everything crossed!
Clearly the big guns will all have a say so my other two bets are in the market without Schwartzel, Grace, Coetzee and Sterne.
The duo at the front of the betting in that market are Thomas Aiken and Garth Mulroy and it's worth taking both at an eye-catching 20/1.
Johannesburg native Aiken struck the ball extremely well from tee-to-green in Qatar (hit 84.7% of greens in reg) and was right in the mix here two years ago when third but couldn't keep pace with Schwartzel. That scenario is likely again so it could be a smart move to bet without Charl.
Two of his last four starts in South Africa have resulted in top threes so he can make a big mark.
Mulroy is a two-time runner-up here having lost to Sterne in 2008 and Schwartzel in 2011 so, again, taking those two out of the equation makes historical sense.
His last start on home soil resulted in a third place in the South African Open while he shot 66-69 to finish tied 15th in Qatar last week.
Since 2008 he's won once on the European Tour, twice on the American Nationwide (now Web.com) Tour as well as banking a few Sunshine Tour victories so he doesn't shy off. And, of course, as with Aiken he could actually come fifth overall and still win this market if the four big guns are ahead of him.
Best bets
4pts win George Coetzee at 8/1
1.5pts e.w. Thomas Aiken 'without Schwartzel, Grace, Coetzee, Sterne' at 20/1 (1/4 1,2,3,4,5)
1.5pts e.w. Garth Mulroy 'without Schwartzel, Grace, Coetzee, Sterne' at 20/1 (1/4 1,2,3,4,5)