Masterful Bubba
From idiot abroad to Masters champion - Bubba Watson has come a long way in the last 10 months.
Last Updated: 09/04/12 12:46pm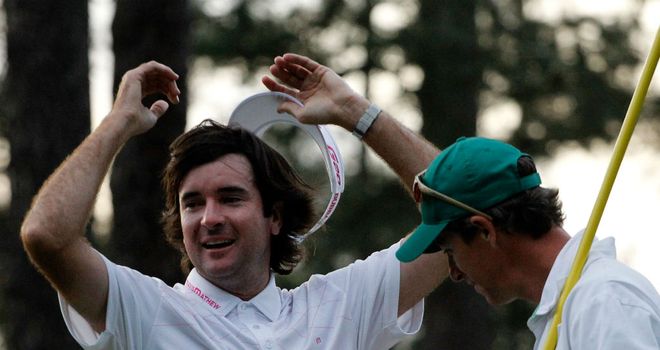 From idiot abroad to Masters champion - Bubba Watson has come a long way in the last 10 months.
The 33-year-old will be in demand the world over after becoming golf's last major winner, but whether the French public want to see him again is another matter.
Watson is the player who certainly left his mark on the French Open last season, even though he comfortably missed the halfway cut.
He described the Eiffel Tower as "that big tower", the Louvre as the "building starting with an L", the Arc de Triomphe as "this arch I drove round in a circle" and the Versailles Palace as "the castle we're staying next to" during his brief trip.
"I'm a golfer not a history major", said the homesick American, but he had also shown he was not a diplomat either by complaining about the crowd at the event.
"Every tee says 'no phones, no video cameras' and on every tee there're hundreds.
"It's not a normal tournament. There's no security. I don't know which holes to walk through. There's no ropes."
There was also a report of him refusing to share a courtesy car from his hotel with a European Tour player and instead demanding his own.
He later tried to explain his behaviour. "I didn't understand that I was the big star of the week because I don't go over to Europe that much," he said.
"I'm not used to being the star, so I couldn't understand why anybody would want to interview me playing bad golf."
He will be getting plenty of that from now on, though, after beating South Africa's Louis Oosthuizen to become the 14th different winner of the last 14 majors.
The last eight of those were all first-time winners, while in another remarkable sequence five of the last 10 Masters champions have been left-handers. Mike Weir was the first in 2003, Phil Mickelson then won three times and now Watson.