The right choice
We now know that Paul McGinley will lead Europe at Gleneagles in 2014. Mark Kendall looks at why he simply had to be given the Ryder Cup captaincy...
By Mark Kendall - Twitter: @SkySportsMK
Last Updated: 17/01/13 6:08am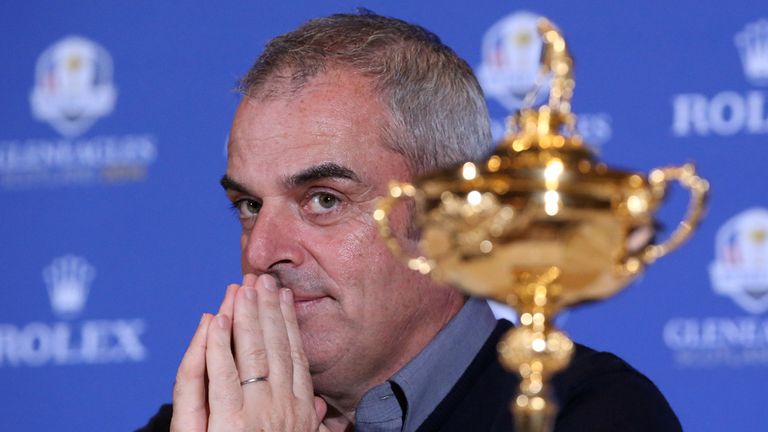 In the end it simply had to be. Paul McGinley was not just the right choice, but ultimately the only choice.
Although the long-time frontrunner for Europe's 2014 Ryder Cup captaincy, McGinley looked like being ambushed; first by Darren Clarke and latterly by Colin Montgomerie.
His weakness was supposedly a lack of profile - especially after America caught the world off guard by going back to the future and appointing one of the game's true greats, Tom Watson, as their next captain.
The theory went that Europe would need a fully-fledged star of their own to stand up to Watson, a man of worldwide repute with the titles to back it up.
On that front McGinley was always going to be trumped by Clarke and Montgomerie, but he had an ace of his own up his sleeve - the support of those that really mattered.
Indeed, the Dubliner played a clever hand, noticeably keeping his distance from the debate and letting his cheerleaders do his talking for him... and when those cheerleaders are Rory McIlroy, Luke Donald and 'Mr Ryder Cup' Ian Poulter, you tend to listen.
After all three Medinah heroes took to Twitter to pin their colours to the McGinley mast, the European Tour's tournament committee were left with very little choice.
Although there were positive noises from the Montgomerie camp 24 hours before the vote, it would ultimately have been a major surprise if McGinley had been overlooked.
Not because Monty was an inferior option, but because the one thing that has served Europe so well in the event during their halcyon run of recent years would have been compromised... togetherness.
A team which prides itself on spirit and camaraderie would have set off on their two-year journey towards a sixth win in seven attempts shrouded in controversy with a captain that leading members of the side clearly didn't want.
Player power
But if, as has been acknowledged by committee chief Thomas Bjorn, player power was behind McGinley's appointment, have Europe ended up with the right man for the job?
As he addressed the media on Tuesday, grinning broadly like a man who could scarcely believe his luck, McGinley referred to US counterpart Watson as one of his "great heroes" and there will certainly be those who feel the Dubliner could be out-talked, overshadowed and simply overawed by the eight-time major winner over the course of the next couple of years.
But surely they are missing the point somewhat? What has made the European team so formidable in recent years is their ability to pull together and defy the odds.
Although in the last couple of contests they have been able to call upon a line-up of talent at the very least the equal of their US rivals, in preceding years it was the spirit of the underdog that seemed to draw the best from Europe's best - the chance for David to bloody Goliath's nose.
For while America concerned themselves with superstars like Phil and Tiger and how to fit their egos not just into the team but into a pairing, Europe simply got on with getting on together.
If Europe had opted for Montgomerie on the premise that he was a figurehead to tackle Watson, some of that team ethic would have been instantly sacrificed as individual personalities took their seats at the top table.
As it is, Europe now have a captain their players want to play for, a captain who, from all accounts, seems to thrive in the team room and excel in man-management and, perhaps most important of all, yet another reason to want to stick it to their brash, big-name American opponents.
By contrast, with Watson at the helm, America have certainly made a statement, but in doing so they have also ratcheted up the pressure on their players.
Failure to perform this time and where do they turn? If Dear Old Tom can't do it then who can? There will surely be nobody left to blame.