Players guide
Dave Tindall's preview and best bets for this week's big PGA Tour event - the Players Championship in Florida.
By Dave Tindall
Last Updated: 09/05/13 11:52am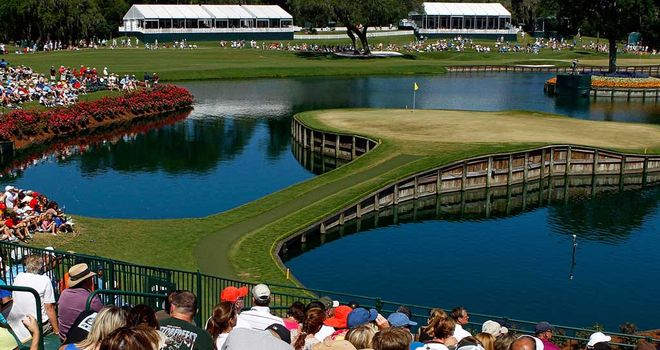 The introduction of the World Golf Championship events suggests it's a bit of a stretch to refer to the Players Championship as the "fifth major".
Nevertheless, it does still enjoy the status of offering the biggest first-prize purse in golf with 2012 winner Matt Kuchar taking home a cheque of over $1.7m.
The Florida event moved from March to May in 2007 and, of course, features one of the most recognisable holes in golf - the 17th.
In theory it's just a short par three but the fact that it's an island hole surrounded by water and exposed to wind makes it a severe mental test, especially on the weekend when the stakes rise.
Over the last 10 years, the number of balls finding water there tallied: 29, 30, 68, 57, 93, 64, 32, 29, 40, and 39. It's easy to tell which the windy years were and, in fact, an amazing 50 balls ended up wet on day one in 2007 when the gusts were particularly strong.
Those most troubled by the hole include Phil Mickelson, who has dumped seven balls in the water there since 2003. Aaron Baddeley and Bob Estes are the worst culprits in this year's field with eight while Robert Allenby has the longest dry streak going. He hasn't found water at 17 for 36 rounds.
The course
TPC Sawgrass is probably Pete Dye's most famous design. A 7,215-yard par 72, the Stadium course features doglegs in both directions while no two consecutive holes play in the same direction. The famous 17th is discussed above but a watery grave also beckons down the left of the dogleg left 18th so the finish is one of the toughest in golf. The greens are smaller than standard Tour size.
The weather
Heavy downpours which dumped more than five inches of rain on the course caused TPC Sawgrass to be closed to the public on Monday. However, it has excellent drainage and the forecast for tournament week shows temperatures in the 80s and rain unlikely. The winds look fairly modest too - good news for those pulling clubs on the 17th tee.
Last year - Matt Kuchar
Matt Kuchar held his nerve to stave off a host of challengers and win by two-shot thanks to a final round two-under 70. Kevin Na, Luke Donald, Martin Laird, Zach Johnson, Ben Curtis and Rickie Fowler were all in the mix before coming up short. Fowler, the winner of the previous week's Wells Fargo Championship, birdied 17 and had less than five feet for another at 18 but missed. That allowed Kuchar to chisel out a steady two-putt par and seal the fourth win of his PGA Tour career.
The leading contenders (and Sky Bet odds)
Tiger Woods (8/1): There are certain courses where Tiger rules the roost. TPC Sawgrass is not one of them. The world number one admits this layout causes him problems and that's shown by just one career win here way back in 2001. He's only had one top 10 since then (an eighth in 2009) so, relatively speaking, his record here is poor. Before his fourth place at Augusta, Woods had won his previous two regular Tour events (Arnold Palmer Invitational and Cadillac Championship) but, to prove the very first point, they were both at venues where he'd excelled before.
Adam Scott (16/1): When Scott won this event in 2004, it seemed a major would follow quickly. That it took until last month's Masters was a big surprise but now that he has finally got one in the bag it seems the world is his oyster. Since his Sawgrass win nine years ago, Scott has managed a sixth (2007), an eighth (2005) and a 15th (2012) but overall his record here is rather spotty. This is his first start since winning the Green Jacket so it will be interesting to see whether his new-found status and increased confidence will take immediate effect.
Rory McIlroy (18/1): Rory missed an awful lot of putts on the bumpy greens at Quail Hollow but was actually ranked 12th in Putting Average so it wasn't a total disaster. Most notably he was ranked first in Greens In Regulation to prove that his ball-striking is back to the levels of old after a period of adjustment following his switch to Nike. That's the good news. The bad is that he and Sawgrass don't get on at all. In three visits (he chose to skip the event in 2011), the two-time major champion has missed the cut every time and in those six rounds he's not even managed to shoot under the par of 72. It's this which explains the seemingly generous price.
Luke Donald (18/1): In contrast to Woods and McIlroy, TPC Sawgrass does seem a Luke Donald sort of track and that's borne out by his results. He was sixth last year, fourth in 2011 and runner-up in 2005. The Englishman was third at Hilton Head on another Pete Dye track on his last outing while his last eight starts in Florida have produced two wins, two fourths and three sixths. Playing on a course he likes in a State where he excels suggests he's one for the shortlist.
Phil Mickelson (25/1): The left-hander has had a pretty lean time of it at TPC Sawgrass although his two top 10s in the last 13 years do include a victory in 2007. Some typical short-game wizardry looked set to give Mickelson victory at Quail Hollow last week but he stumbled at the finish and lost by one. The triple Masters winner is a big fan of that course while this one clearly poses him problems - especially the 17th. In theory his price is attractive but it'll take a big leap of faith, even from his biggest fans, to fancy him heavily here.
Lee Westwood (25/1): Westwood's results are improving by the week. He was 10th in Houston, eighth at Augusta and fourth at Quail Hollow last time so has to rank as a likely contender this week. His Sawgrass CV shows a fifth and a sixth in the late 1990s and, more recently, a fourth in 2010. What he still lacks, though, is a big win in the States. His detractors keep bringing this up while his supporters think it could change now he's based in the U.S. Both will agree that a top five is well within reason though so he's a decent each-way price.
Justin Rose (28/1): Augusta always seems to shine a light on Rose's Achilles Heel - his putting - and that was certainly the case this year when it stopped him cashing in on some superb tee-to-green play. It was more of the same in New Orleans last time out when he topped the Greens In Reg stats for the week but couldn't buy a putt. The doubts grow when you look at his Sawgrass record which shows four missed cuts in nine appearances and not a single top 20. On those stats it's his least favourite course in Florida.
Sergio Garcia (28/1):
A 16th at Quail Hollow last week continued Garcia's incredible run of consistency. Apart from a third round withdrawal at Bay Hill he hasn't finished outside the top 25 in a strokeplay event since last Augusta's USPGA - good for fantasy league managers although a little frustrating for each-way backers in recent times after finishes of 16th, 12th, 8th, 7th. Sawgrass has been a happy hunting ground for him though. He won here in 2008, was runner-up in 2007 and also made the top four in 2002. The Spaniard also closed with a 65 to finish tied 12th in 2011.
Best of the rest
Matt Kuchar (30/1): Kuchar's strong, if not very spectacular, all-round game always seemed a decent fit for Sawgrass and, after three top 15s in his previous five visits, he scored a superb win here last year. He added another big win this season when capturing the WGC-Accenture Match Play and was also a very decent tied eighth at Augusta. An obvious negative is that no-one has managed to win this title back-to-back - perhaps a reflection on the quirky course as well as the strength of the field.
Nick Watney (40/1): The Californian was tied for the lead after 54 holes at Quail Hollow last week before a poor final round. But a 10th place finish was his third top 15 in a row after a 13th at Augusta and 15th in New Orleans so there is plenty to like about his game at the moment. The season-long stats show him at 11th in Greens In Regulation while he also boasts winning form in Florida (the 2011 WGC-Cadillac Championship) and a fourth place in this event two years ago when he admitted "I didn't have my best stuff". If he can do that when not firing on all cylinders, it has to bode well.
Dark horses
Ben Crane (90/1): "If this is not the best golf course we play all year, I don't know what is," said Crane when interviewed here in 2010. Well, the vast majority of his rivals would disagree so it shows just how much Crane relishes his visits here. From 2008-2010 he finished sixth, fifth and fourth and has made fast starts for the last two years. The American, who has four PGA Tour wins, was fourth in Houston three starts ago.
Kyle Stanley (100/1): After missing six cuts in his first eight tournaments of the year, Stanley has suddenly hit his straps. He closed with 67-65-67 to finish third in New Orleans and built on that with a sixth place at Quail Hollow last week after a closing 68. Vastly improved putting stats are at the heart of that turnaround as is improved confidence which had vanished a little. Stanley is a big talent and could be ready to peak again.
Brian Davis (125/1): Some players aren't big fans of Sawgrass. Others love it. Davis is very much in the latter category. "I do love this course. This TPC you've got to shape the ball right to left, left to right, and obviously that's my game. I like the heat, I live in Florida so I'm used to bermuda (grass)." Davis was fifth here in 2009, 25th last year and 26th the year before. As for recent form he was sixth in Houston and hasn't been outside the top 32 in four events since then.
Conclusion
The last 10 winners of this event were Matt Kuchar, KJ Choi, Tim Clark, Henrik Stenson, Sergio Garcia, Phil Mickelson, Stephen Ames, Fred Funk, Adam Scott and Davis Love III.
Only two of the 10 had a major win under their belt at the time while eight of the 10 had made at least seven appearances in the event prior to their victories. Most, apart from Clark, were proven winners.
Nick Watney is a player who very much fits the profile (he's made six previous starts as opposed to the desired seven but we can overlook that) and is in solid form.
It didn't go to plan at Quail Hollow on Sunday but his putting looks sharper and a strong record in Florida and previous top four finish here suggests he's a good bet at 40/1.
Ben Crane is playing here for the ninth time and can boast a fourth, a fifth and a sixth.
The grinding test of this challenging layout clearly suits him and 90/1 is attractive.
Also back him for first round leader as he's been in the top 10 after day one in each of his last six appearances here (4th-10th-3rd-1st-9th-6th).
Brian Davis, playing in his ninth Players Championship this year, has some good results at Sawgrass and is interesting at 125/1. Take that each-way and also play him in the first round leader market.
His day one positions are generally better than his overall finishes and in the last two years he's been sixth and 13th after the opening round. He was also ninth after the first day in 2007 when he actually went on to miss the cut.
Kyle Stanley has only made one previous visit to Sawgrass but he's a fast learner and could spring a three-figure surprise after a third and a sixth in his last two starts.
The 2012 Phoenix Open winner also famously blew victory at Torrey Pines the week before that debut victory so once he's hot he can stay hot.
The likes of Lee Westwood, Justin Rose and Luke Donald all fit the profile of past winners here - quality players without a major who have plenty of Sawgrass experience.
Donald has the best credentials and, although his price isn't great, I will put him in each-way at 18s given his extremely strong record in Florida.
He said last year: "I'm always excited to play this event. I think it's a good golf course for me and one that I have a good chance of winning around."
Best bets
Outrights
2pts e.w. Luke Donald at 18/1 (1/4 1,2,3,4,5,6)
1.5pts e.w. Nick Watney at 40/1 (1/4 1,2,3,4,5,6)
0.5pts e.w. Brian Davis at 125/1 (1/4 1,2,3,4,5,6)
0.5pts e.w. Ben Crane at 90/1 (1/4 1,2,3,4,5,6)
0.5pts e.w. Kyle Stanley at 100/1 (1/4 1,2,3,4,5,6)
First round leader
1pt e.w. Ben Crane at 66/1 (1/4 1,2,3,4,5)
1pt e.w. Brian Davis at 100/1 (1/4 1,2,3,4,5)