The Players Championship: Shot Centre analysis of final three holes
Our experts tackle Sawgrass' final three holes - including the notorious 17th - in the Shot Centre.
Last Updated: 08/05/14 1:42pm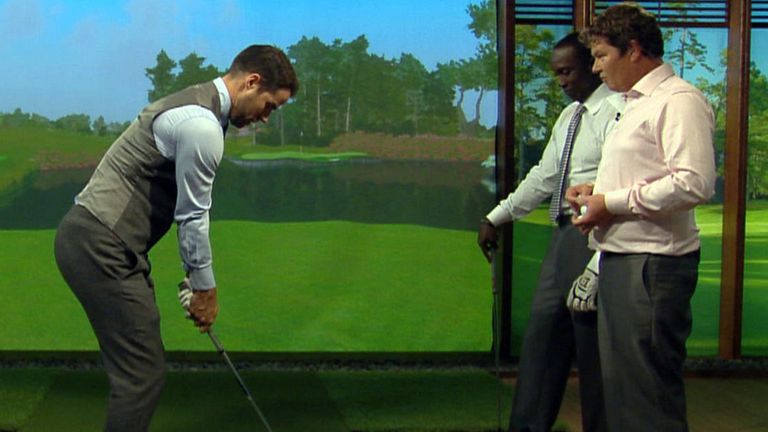 Rory McIlroy and 2004 titlist Adam Scott are among the favourites to net the $1.8m winners' prize, which is the biggest of the year.
However, the testing Sawgrass course - and notoriously the par three 17th - has scuppered the hopes of many challengers and the four days, live on Sky Sports, should provide an intriguing battle for the coveted crown.
Ahead of the event, Sky Sports golf experts - as well as keen players Jamie Redknapp and Dwight Yorke - stepped into the Shot Centre to tackle some of Sawgrass' trials themselves, and lift the lid on what the sport's finest will experience this week.
Here's how they got on...
The closing stretch and teeing off at 16
To clinch the season's biggest pay check, this year's Sawgrass successor will have to hold their nerve through the final three holes. Simon Holmes and Mark Roe take a look at what challenges conclude the course and try to set up an eagle attempt at the par-five 16th.
Water way to go! Taking on 17...
The penultimate hole at Sawgrass is one of the most famous in golf. The island hole, surrounded by water and exposed to gusting winds, has made many top pros look rather foolish and last year 44 balls found the drink. Phil Mickelson is a seven-time victim - but could Sky Sports football experts Jamie Redknapp and Dwight Yorke hit the green?
Finishing with a flourish
Players will breathe a sigh of relief if they've kept dry on 17 - but they will have to re-focus quickly because the final Sawgrass test is one of the toughest of all. The 447-yeard par four sweeps by the lake and a good tee shot is vital. Here Mark Roe and Simon Holmes aim for the fairway...
Approaching glory
Hitting your mark from the tee is only half the battle, though. The second shot at 18 again requires players to avoid the lake, but the unforgiving green will punish any iron stroke which strays off line. Mark Roe and Simon Holmes attempt a championship-sealing approach...
Watch all four days of the Players Championship, live on Sky Sports 4 from Thursday.