Amazing Grace
Richard Boxall told Sky Sports that Branden Grace has the class to become a major force in world golf.
Last Updated: 07/10/12 6:02pm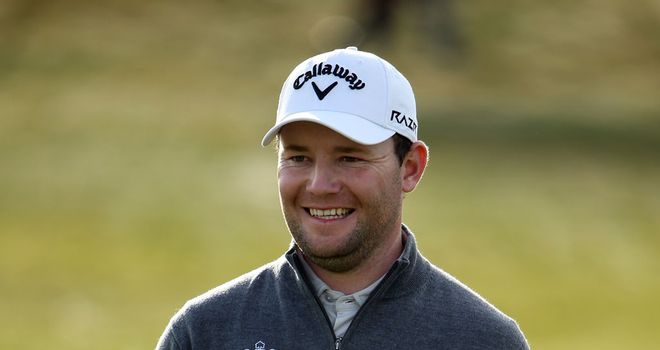 Richard Boxall believes Branden Grace has the class to become a major force in world golf.
The Sky Sports expert was speaking after watching the South African win his fourth European Tour event of the year at the Alfred Dunhill Links Championship, netting the £500,000 first prize and maintaining his position in the top 50.
Ernie Els has tipped Grace for the top after watching him come through his foundation and this latest victory should guarantee him qualification for next year's Masters.
And Boxall says his remarkable rise - he was only just inside the top 300 at the end of 2011 - shows he has incredible skill.
"It's all going to open up for him immensely now," he said.
"I think he really is a big star for the future. The likes of Ernie Els think that he can win majors and he must have a rough idea of how good he is.
"It's not luck. You've got to play well to move from 271 to where he is now inside the top 50. It's pure skill to get to that situation.
"To win is difficult. He won last week on the Sunshine Tour in South Africa and is the kind of player who can take a month off, not do anything, and then come back and win - and win this huge event."
Legends
Grace became the 10th player to win four European Tour events in one year following his back-to-back victories at the Joburg Open and the Volvo Golf Champions in January and his triumph at the Volvo China Open in April.
Seve Ballesteros, Ernie Els, Sir Nick Faldo, Miguel Angel Jimenez, Martin Kaymer, Bernhard Langer, Colin Montgomerie, Lee Westwood and Ian Woosnam are the other names on that list.
And Boxall says Grace has earned his place among such celebrated company.
"They are legends of the European Tour," he said.
"The likes of Nick Faldo, Colin Montgomerie, Lee Westwood, Ian Woosnam and Ernie Els are on the list and there's not many.
"It's amazing how quickly he's reached that situation. His golf has been, especially at the start of the year, absolutely exquisite.
"He had back-to-back wins and it's hard enough to get one win, but to get two back-to-back is brilliant."