Paul McGinley hails Rory McIlroy as successor to Tiger Woods after win at DP World Tour Championship
Paul McGinley says Rory McIlroy's Dubai win shows his career moved to a new level in 2012.
Last Updated: 25/11/12 2:15pm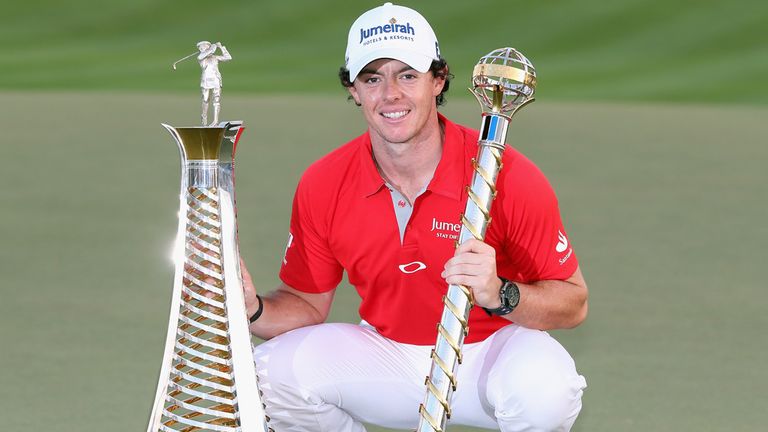 The world number one birdied the final five holes to overcome a late charge by Justin Rose at the DP World Tour Championship and claim victory in the showpiece event of the European Tour season.
McIlroy, who had already added the Race To Dubai crown to his USPGA Championship victory this season, admitted he was feeling tired at the start of the week and he wasn't at his scintillating best in Dubai.
But McGinley, watching on from the Sky Sports studio, said his late form showed that he has a rare talent.
"He's finished off the most fantastic of years," he said.
"Not only has he moved into a fifth gear on the last five holes - a gear we always knew he had this week and he proved it when he really needed it - but his career has moved into a fifth gear in the second half of this year. Since he won the USPGA his career has gone to a different level as a player.
"All week it felt like he was playing in fourth gear and sometimes even third gear and remained in contention and remained leading the tournament.
"It was Tiger-esque. Tiger has laid down the platform over the last decade as to how to go into overdrive in a tournament. We thought we'd never see it again, but we're seeing it straight afterwards with Rory."
Impressive
McIlroy was trailing Rose by two shots following a bogey at the 13th and McGinley said he needed to draw on all of his metal strength to recover.
He said very few players in the history of golf would be capable of such a finish and feels McIlroy can now justifiably be seen as the successor to Tiger Woods.
"It's one of the most impressive wins I've ever seen from Rory," McGinley added.
"Having watched all the golf this week I really felt he was in third or fourth gear and felt there was another gear that was not quite there until he really needed to.
"That was a trait of Tiger in his peak and we always said we'd never see that again in our lifetime - and here we are seeing it in the very next player.
"It's something that very few people have ever had in the history of the game and we're seeing it one player after another in Tiger and Rory. It's incredible to watch.
"He made five birdies when he needed to - he was losing momentum and things weren't going well and we thought things were starting to unravel for him.
"Just when he really needed it he was able to step up."
Pop star
McGinley was a vice-captain for Europe's victorious Ryder Cup team and said McIlroy was the star attraction for many of the Medinah supporters.
And he says he deserves a well-earned break after the rigours of a long season.
"He's a young kid full of energy and he's really enjoying his life," he added.
"As I said earlier, he's got lots of really good friends. He seems to be very happy in his new management group and is obviously very happy with his girlfriend.
"His golf is going from strength to strength, he's just signed a big sponsorship deal and life doesn't get much better than what Rory's enjoying at the moment.
"There's a lot of stresses with being Rory McIlroy. I saw it first hand at the Ryder Cup; it was Beatles-like over there. I've never seen anything like it, except for Tiger, in my career. The pop star status he has is draining.
"He's played unbelievable golf around the world, so of course his battery is going to be low."